Erdogan Cements Power Through 2019 After Turkey Vote Triumph
Islamist-rooted AK Party restores majority after June losses

Landslide opens way for new constitution, presidential rule
Recep Tayyip Erdogan cemented his position as Turkey's paramount leader through at least 2019 as the Islamist party he founded won an unexpectedly sweeping election victory and signaled it may move to enshrine the president's dominance in a new constitution.
QuickTake Turkey's Continental Divide
Sunday's vote ended a five-month interlude in Erdogan's 13-year rule, leaving the Islamist-rooted AK Party back in control of Turkey's parliament and the president firmly in charge on issues from war in Syria and peace with Kurds to the restructuring of a slowing economy. Financial markets surged on the prospect of a stable government, and many analysts warned of the longer-term risks associated with undiluted power.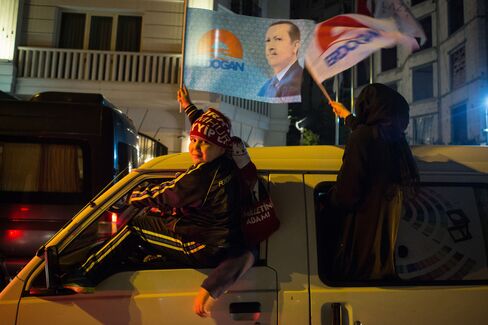 Erdogan wasn't even up for re-election yet remained the central figure in Turkey's second campaign this year, after the AK Party lost its majority in a June ballot. Since then, the country has resumed its war with Kurdish separatists and suffered a wave of Islamic State attacks. While the violence alarmed investors, it appears to have persuaded voters to seek stability in a return to single-party government, one whose center of gravity has shifted toward the president's office.
"Erdogan has consolidated his power and will definitely try and have a parliament vote for a new charter to introduce an executive presidential system," Nihat Ali Ozcan, an analyst at the Economic Policy Research Foundation of Turkey, an Ankara-based think tank, said by phone on Monday. If that proves impossible, he will continue to operate a "de facto" version, Ozcan said.
'Checks and Balances'
Under Erdogan's successor as premier, Ahmet Davutoglu, the AK Party won about 49 percent of the vote and 317 seats in the 550-member legislature, according to preliminary results. That's short of the 330 needed to change the constitution and boost presidential powers, though Erdogan adviser Yigit Bulut said hours after polls closed that the government may try anyway. The AK Party will seek support from other groups in parliament for changes to the charter, deputy chairman Mehmet Ali Sahin said Monday.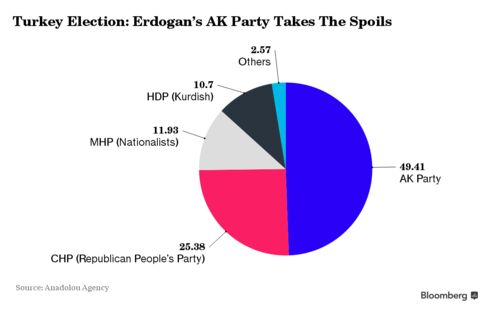 Erdogan's critics say the president is already running the country from a post that's traditionally been ceremonial and neutral, chairing cabinet meetings and exerting influence over party appointments.
"There will be concern over the lack of checks and balances over the next Erdogan administration -- inevitably, he will dominate the next government, even without formal executive powers," Timothy Ash, a credit strategist at Nomura International Plc in London, said in an e-mailed note. Meanwhile, "markets will likely appreciate a strong stable government."
Market Appreciation
They did on Monday: The lira was headed for its biggest gain since 2008 at 5:45 p.m. in Istanbul, and the benchmark stock index closed 5.4 percent higher. But some companies whose owners have clashed with Erdogan plunged dramatically: Dogan Holding, the biggest media group, dropped 15 percent.
Opposition parties have accused Erdogan and Davutoglu of suppressing critical media, favoring business allies and undermining central-bank independence by pushing for lower interest rates.
---
Turkey Election: What Happened Next
Istanbul's Borsa index rose more than 5 percent by 11.30 a.m. local time
The lira rose against the dollar, with a 3.87 percent gain, the biggest since May
Shares in units owned by AKP opposition parties plunged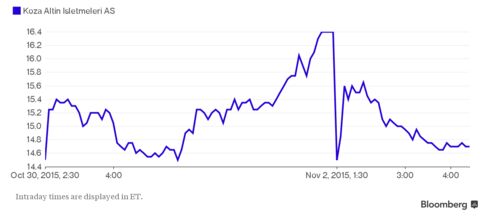 ---
After the vote, "we may see renewed pressure on the central bank to ease monetary policy in order to support growth," Abbas Ameli-Renani, emerging markets strategist at Amundi, writes in e-mailed note.
The AK Party ran on a record of economic growth that averaged about 5 percent in its first decade in power, though the pace has slowed to nearer 3 percent in recent years. Erdogan governments also tamed inflation, slashed the national debt and attracted record levels of foreign investment
Abroad, Erdogan and Davutoglu have supported rebels battling to oust President Bashar al-Assad in Syria, and clashed with the U.S. by refusing to back Kurdish fighters taking on Islamic State. Turkey has also emerged as a key player in Europe's refugee crisis, winning concessions over visas and membership talks from the European Union in exchange for promises to help stem the flow of migrants.
Between the June and November elections, the renewed war in the largely Kurdish southeast and the spillover of violence from Syria formed a grim backdrop to campaigning. Critics accused Erdogan and Davutoglu of ratcheting up tensions with Kurdish militants in a bid to regain the lost majority.
'Paying Off'
"Erdogan's emphasis on security and instability is paying off," said Anthony Skinner, a director with U.K.-based forecasting company Verisk Maplecroft
The Kurdish party whose breakthrough performance in June helped strip the AK Party of its majority saw its vote decline on Sunday, after a near-blackout in local media and a government campaign to highlight its links with the armed rebels. The nationalist MHP saw its number of seats drop by half, while the biggest opposition group, the secular CHP, registered a small increase without breaking out beyond its core supporters.
"The electorate gave a strong message with this election," Naz Masraff, an analyst for the Eurasia Group in London, said in an e-mailed note. Instead of a shaky coalition, "they trust that a majority AKP government will be better at delivering political and economic stability."
Before it's here, it's on the Bloomberg Terminal.
LEARN MORE