Glencore Crisis Hurts Most Those Who Have the Least
More than 4,000 will be laid off for mine modernization in Zambia, and workers there say they will struggle to find new jobs.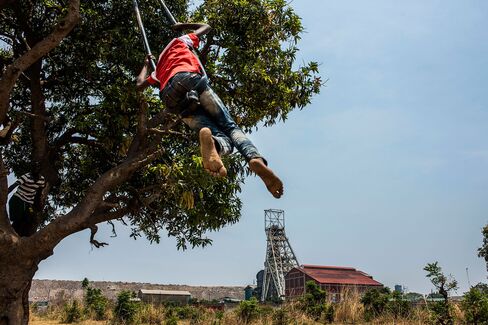 For more than a decade, copper mines in Africa proved a lucrative bet for Glencore Plc, accounting for almost a third of its production of the metal in the first half of the year. Executives including the company's billionaire chief, Ivan Glasenberg, were happy to highlight the economic benefits they brought to places like Kitwe, Zambia, where most of the local economy is dependent on the company's Mopani mining complex.
Now, with $30 billion in debt, an 18 percent drop in copper prices and plunging shares, Glencore is targeting Kitwe and other Africa mining operations to help save itself.
All of Glencore's copper production in Zambia, and most of what it has in the Democratic Republic of Congo, is closing for 18 months. The mines will be refurbished, and the global copper market will lose about 400,000 tons of metal over the period.
That should help prices recover and improve the profitability of the African copper mines when they reopen, Glencore says. At the height of the commodity boom in 2011, when copper prices surged to a record, Mopani earned $207 million on sales of $1.15 billion, a 204 percent increase from 2010.
The closure is a bitter blow for Kitwe, where about 4,000 direct jobs could be lost, more among contract workers. Standing outside the gate of one of Glencore's towering elevators into the mineshaft, contractor Allan Mukosha says the Swiss company's decision will hit "like a funeral" in Zambia's second-largest city.
Rising Poverty
"The impact will be enormous," said the 50-year-old, one of 20,000 people in Kitwe whose jobs depend on Glencore's Mopani operations. "A lot of people will go to the streets. Poverty levels will be high. The crime level will also increase."
Unionized miners will get packages of as much as two months' pay for every year worked and some may be rehired for the upgraded mine. Even so, it may be too late. National Union of Miners and Allied Workers President James Chansa says the severance will get chewed up repaying loans workers took during better times.
It's devastating for the entire country, already reeling under the copper price decline and a power crisis, said Finance Minister Alexander Chikwanda. Mine-tax revenue in 2016 will probably be "zero or very minimal," he said. Copper production accounts for 70 percent of Zambia's exports, one reason why the currency is the world's worst-performing this year. About 60 percent of Zambia's 15.7 million people live on less than $1.25 a day, according to the World Bank.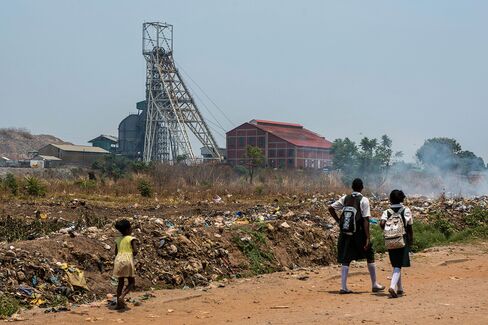 Glencore says the "difficult decision" to suspend production at Mopani was needed to ensure it and other assets remain viable. About $950 million will be invested in site expansion and upgrades by 2018 on top of almost $3 billion spent since 2000.
The company will continue its participation in health, education, enterprise development, water and sanitation programs in the area. Some employees will attend technical school during the suspension period and those laid off will have priority for new jobs, Glencore said in a statement.
Glasenberg, Glencore's chief executive officer, said that, in the face of the crisis, Zambia's government had been "very accommodating" and that has encouraged the company to invest there for the future.
"This is a country I can deal with because when times were tough they let us shed our workforce, they let us cut production," Glasenberg said at a conference in London on Oct. 5. Zambia is a country about which investors can say "'I don't mind putting more money in there."'
Less Wealth
The commodity crash has contributed to a 60 percent drop in Glencore's shares this year. And it's wiped out hundreds of millions of dollars in paper wealth for the company's top insiders. Glasenberg himself owns about 8 percent of the company. The mining firm, whose roots are in commodity trading, has embarked on a sweeping plan to reduce debt by selling assets and shuttering mines across the world.
After suffering a record one-day stock drubbing in September that wiped out nearly a third of its value, Glencore shares have rallied more than 66 percent as the company rolled outs its plan to reduce debt by more than $10 billion.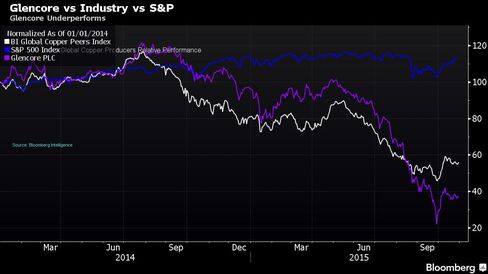 That means little in Kitwe, whose fortunes have been intertwined with copper for three-quarters of a century. Two of Mopani's mine shafts, around which the city was built, are less than five kilometers from the hospital in the middle of town.
The road into the city from Lusaka announces its mining roots: a dark copper-waste dump the locals call Black Mountain towers above the highway. A tar road leads from the new Synclinorium shaft at Mopani to the densely populated housing areas where many mineworkers live. The dusty streets winding through the small cinderblock houses aren't paved.
Unit Costs
Unfortunately for Kitwe, the Mopani mines aren't efficient. Producing a pound of copper there costs $2.50, at a time when the world price is about $2.34 a pound. The modernization project will bring production costs to $1.70 a pound, Glencore says.
Local commerce is driven by wages earned by Mopani employees and contractors. Kelvin Sanga owns a small shop separated from Mopani's South Ore Body shaft by a field strewn with smoldering garbage. He sells items such as biscuits and soft drinks; most of his customers work at Mopani.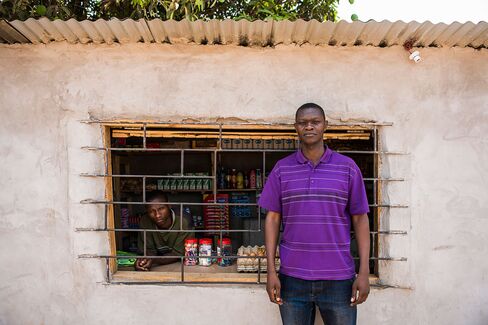 "For 18 months we will struggle," he said. "It will affect not only us as a family but also the children. They won't continue to go to school, we won't have the money. They will suffer.''
With few other industries and poor prospects for farming, workers hit by the shutdown say they will struggle to find work elsewhere. Each person working in the mines has eight dependents, the company says.
"If I'm pruned, surely for me to get another job will be another task," said Vesters Chileshe, a Mopani employee standing outside his house on a dusty unpaved road in Kitwe, holding his three-year-old son in his arms under the midday sun. "I've got so many people that depend on me for the little money I have. More than 10 people. I've spent most of my life working in the mines."
Peter Grauer, the chairman of Bloomberg LP, the parent of Bloomberg News, is a senior independent non-executive director at Glencore.
https://www.google.co.uk/maps/place/Kitwe,+Zambia/@-12.8161412,28.2163962,12z/data=!4m2!3m1!1s0x196ce605eca5524d:0xfbb3502bc576f8e4
Before it's here, it's on the Bloomberg Terminal.
LEARN MORE