U.S. Consumer Spending Rose Less Than Forecast in September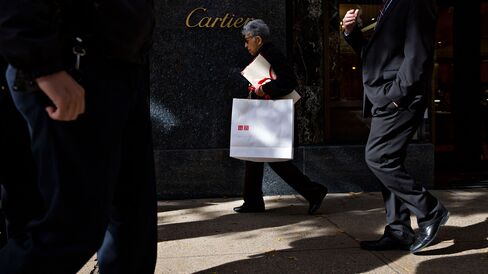 Household spending rose less than forecast in September, showing the biggest part of the U.S. economy ended a strong quarter on a weak note.
Purchases increased 0.1 percent, the smallest gain since January, after rising 0.4 percent in August, Commerce Department figures showed Friday in Washington. The median forecast of 75 economists in a Bloomberg survey called for a 0.2 percent advance. The first drop in prices since January helped take some of the sting out of a smaller-than-projected advance in incomes.
Americans pulled back amid turmoil in financial markets caused by signs that global growth was weakening. It will take a pickup in wage growth to ensure American households remain the linchpin of economic growth heading into the all-important holiday shopping season.
"There was a definite loss of momentum as we were coming out of the third quarter, but don't worry too seriously about that," said Scott Brown, chief economist at Raymond James Financial Inc. in St. Petersburg, Florida, who correctly projected the spending advance. "The job growth is positive, but we'll need to see better wage growth down the line."
Projections for consumer spending in the Bloomberg survey ranged from little change to a 0.4 percent gain.
Wages were unchanged in September, the weakest reading in six months, after a 0.5 percent advance the prior month. That meant total incomes rose just 0.1 percent after a 0.4 percent increase in August. The Bloomberg survey median called for incomes to rise 0.2 percent.
Wages, Salaries
A separate report Friday from the Labor Department showed wages and salaries rose 0.6 percent in the third quarter and were up 2.1 percent from the same time last year. The year-to-year reading matched the increase in the prior quarter.
A lack of inflation is helping augment weak income gains. The Commerce Department's report showed the price index tied to consumer purchases decreased 0.1 percent in September from the prior month, the first drop since January. It rose 0.2 percent from the same time in 2014, compared with a 0.3 gain in the year ended August. This inflation gauge is preferred by Federal Reserve policy makers and hasn't met their 2 percent goal since April 2012.
Stripping out the volatile food and energy categories, the price measure climbed 0.1 percent from August and rose 1.3 percent in the 12 months ended in September.
Fed Decision
Fed officials said at the close of their two-day meeting in Washington Wednesday that they will consider tightening policy at their next meeting in December, based on "realized and expected" progress in reaching their employment and inflation goals.
The central bankers removed a line from September's meeting statement about global economic and financial developments restraining economic activity while noting the economy continues to expand at a "moderate" pace.
Friday's data also showed that after adjusting for inflation, in order to generate the figures used to calculate GDP, purchases increased 0.2 percent last month after a 0.4 percent advance in August.
Steady gains in consumer purchases will be needed to keep U.S. growth churning. The economy expanded at a 1.5 percent pace in the third quarter as businesses trimmed bloated inventories, Commerce Department data showed Thursday.
Consumer spending climbed 3.2 percent last quarter, exceeding the average of the prior five years, according to Thursday's report. Friday's report showed the breakdown for the quarter.
Payrolls
Stable job growth in 2015 and cheaper prices at the pump have helped cushion Americans' pocketbooks, supporting household spending. While payrolls advanced at a slower pace than forecast in August and September, employment this year has averaged increased by 198,000 a month on average, beating seven of the 10 years through 2014.
Gasoline costs have been receding for the past two months. The average price of a gallon of regular gasoline fell to $2.19 as of Oct. 28, the lowest since February, according to auto group AAA. That compares with a daily average in 2014 of $3.34 per gallon.
Disposable income, or the money remaining after taxes, climbed 0.2 percent in September from the prior month after adjusting for inflation. It was up 3.4 percent over the past year, the most since February. The saving rate increased to 4.8 percent from 4.7 percent in August.
Before it's here, it's on the Bloomberg Terminal.
LEARN MORE