Sony Returns Profit in Second Quarter as Revival Takes Hold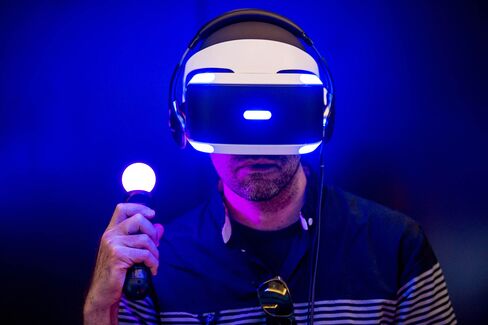 Focus on games, image sensors paying off for electronics maker

Raises forecast for PlayStation 4 sales on stronger demand
Sony Corp. returned to profitability in the fiscal second quarter driven by gains in PlayStation 4 games, image sensors and cameras.
Net income was 33.6 billion yen ($278 million) in the quarter ended September, versus a 136 billion yen net loss a year earlier, Sony said Thursday. The result also beat estimates.
The company's fourth straight profit beat shows Chief Executive Officer Kazuo Hirai's progress in reviving an electronics maker that has cut thousands of jobs to pivot away from phones and TVs. It maintained its outlook for annual operating income of 320 billion yen in the year ending March 2016, while raising its profit forecast for PlayStation console sales and game revenue.
"Structural reforms are going as planned as the company puts more emphasis on profit than on sales in digital cameras and smartphones," said Yasuaki Kogure, chief investment officer at SBI Asset Management Co. "We can expect stable profit from devices and games."
The shares are up about 40 percent this year as investors gained confidence in the envisioned turnaround of a company that has posted net losses of more than $10 billion during the past five fiscal years, as competition in TVs and smartphones undermined profitability.
Sony on Thursday raised the profit forecast for its games business 33 percent to 80 billion yen in the year to March 2016. The company increased its outlook for PlayStation 4 sales in the period 6 percent to 17.5 million units, crediting a price cut. Its movie business may also get a shot in the arm from the opening of the latest James Bond film "Spectre" around the globe.
Virtual Reality
Sony is boosting investment in a devices business that makes image sensors, while expanding the PlayStation 4's media offerings and introducing a virtual-reality headset that will compete with Facebook Inc's Oculus Rift. Hirai is also cutting back on the mobile phone business to focus on more profitable smartphones.
"It's not only that the sales of PS4 hardware are expanding, we are also seeing growth in revenue from networked services," Chief Financial Officer Kenichiro Yoshida told reporters Thursday after the earnings were announced. "The reduction in hardware costs and demand for networked services both exceeded our expectations."
Rising demand for PlayStation software drove a 10 percent gain in profit and a 17 percent rise in sales at its game and networked services business.
It also benefited from strong sales of the image sensor chips used in cameras. Operating income at the devices division that makes the semiconductors climbed 15 percent, while revenue rose 7.4 percent. Profit from cameras surged 29 percent as demand jumped for the company's high-end models.
Box Office
Those gains helped Sony offset a slump in a movie business that saw operating losses climb. While "Spectre" has broken records in the U.K. and is forecast by some analysts to do the same in North America, the film unit is having a dismal year with disappointments spanning "Aloha" and "The Walk."
The company is now considering the sale of underperforming businesses, as it did with its Vaio brand last year, even as it spends to build core divisions. Sony agreed this week to buy Toshiba Corp.'s image sensor business, both companies said.
"Posting major losses from electronics in the past seven years has made us rethink the business," Yoshida said Thursday. "President Hirai's directive that we not chase after scale and find a different way has permeated the organization."
Before it's here, it's on the Bloomberg Terminal.
LEARN MORE