BOJ Decision-Day Guide: Kuroda Mulls Stimulus as Growth Withers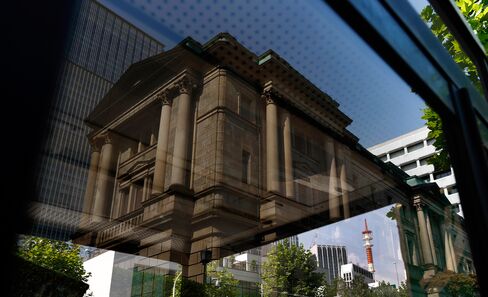 Besides any policy change, BOJ to give outlook for CPI and GDP

In event of easing, pay attention to what tools will be used
Hold on to your hats for what may be the most anticipated Bank of Japan meeting since Governor Haruhiko Kuroda presided over his first policy board meeting in April 2013.
Friday's event has been preceded by a sharp division among economists over whether the BOJ will expand its asset-purchase program, already at a record. Those at JPMorgan Chase & Co., Barclays Plc and Bank of America Corp. said that whichever way the bank goes, it will be a "close call."
Sixteen of 36 analysts surveyed by Bloomberg said they expect additional easing, eight forecast more stimulus at a later date and 12 see no prospect of a policy change in the foreseeable future.
The BOJ typically announces its policy decision at about 1 p.m. on a one-day meeting like Friday's. The policy statement was released at 1:44 p.m. when Kuroda and the BOJ board expanded stimulus in October 2014.
The latest projections for inflation and economic growth will be released at 3 p.m., and then all eyes will be on Kuroda's press conference at 3:30 p.m. in Tokyo.
The following are key elements to follow through the day:
Policy Decision
The central bank is currently targeting an annual expansion of 80 trillion yen ($660 billion) in the monetary base, mostly by purchasing Japanese government bonds.
It's also snapping up exchange-traded funds and Japanese real estate investment trusts at an annual pace of about 3 trillion yen and 90 billion yen, respectively.
After no policy change was announced at the BOJ's most recent meeting three weeks ago, several key economic reports have been released. Yet data on exports, retail sales and production haven't raised the chances of easing in the view of Kazuhiko Ogata, an economist at Credit Agricole SA in Tokyo.
The report Thursday showing industrial production unexpectedly rose 1 percent in September may have given the BOJ room to breathe without further easing, Naohiko Baba, chief Japan economist at Goldman Sachs Group Inc., wrote in a report.
Divided Views
"Coupled with the bullish survey forecast for October output, we believe the bank may have bought itself some time before taking its next easing steps," Baba said.
But other economists think Japan's economic picture favors more stimulus, especially as other central banks are making such moves.
"We expect additional easing," Takuji Aida, an economist at Societe Generale SA in Tokyo, wrote in a report Thursday. "It's getting hard for the BOJ to say the economy is in line with its outlook when the PBOC and ECB are moving toward further loosening."
Still, some psychology may be in play in Friday's announcement. Unlike last October when Kuroda surprised markets by expanding stimulus, 44 percent of economists are forecasting easing and market participants are on alert for it. That complicates the guessing game on action by Kuroda, who is thought to like surprises.
"Kuroda doesn't do things when everyone says do it," said Yoichi Takahashi, an economics professor at Kaetsu University in Tokyo who exchanges views with BOJ Deputy Governor Kikuo Iwata and advisers to Prime Minister Shinzo Abe. "Taking that into account, there are chances of no action."
Policy Tools
If the BOJ decides to ease, ramping up the pace for purchases of Japanese government bonds, exchange-traded funds and real estate investment trusts would be obvious paths to take.
Barclays Plc forecasts that the central bank will speed up an increase of bond holdings to an annual pace of 100 trillion yen from 80 trillion while doubling the purchase of exchange-traded funds to 6 trillion yen.
Yet those aren't the only tools available to Kuroda. He said earlier this year there were "many options" available for more stimulus and that the central bank could get creative in the case of further expansion.
Fresh forms of easing for the BOJ could include purchasing regional bonds, cutting interest rates or raising the price target to 3 percent, according to economists. And the BOJ could keep the 80 trillion yen target though change the composition of the holdings.
Yen Effects
Whatever the BOJ decides, there will be implications for the yen, which traded at 120.72 against the dollar as of 6:33 p.m. Thursday in Tokyo. The currency could weaken to as much as 122 yen per dollar in the event of more easing, according to Naohiro Nomoto, an economist at Bank of Tokyo-Mitsubishi UFJ Ltd. Osamu Takashima, a currency strategist at Citigroup Inc. in Tokyo, said the yen could gain to as much as 118 yen against the dollar if the BOJ takes no action.
The average of the expected exchange rate by large manufacturers stood at 117.39 for the year ending in March, according to BOJ's Tankan survey of manufacturers on Oct. 1. The BOJ could be under pressure from companies if the yen gains above that level.
Inflation Target Timing
Investors also are paying attention to what the BOJ has to say about the timing for reaching the 2 percent inflation target in its outlook report. The central bank pushed back the timing in April when Kuroda kept policy unchanged as he attributed the delay to low oil prices.
The BOJ now says it expects consumer prices excluding fresh food will reach the 2 percent level around the first half of fiscal 2016 or six months through September 2016.
Changes in that language would be a signal of how firmly the BOJ is sticking with its commitment to achieve the inflation target "at the earliest possible time, with a time horizon of about two years," the goal laid out in an April 2013 policy statement when Kuroda began easing.
Outlook for Growth, Inflation
The BOJ will give its projections for inflation and economic growth in its outlook report. The median estimate of nine board members for the average of each year through fiscal 2017 is likely to be revised downward, according to economists from HSBC Holdings Plc and Dai-Ichi Life Research Institute Inc.
Hideo Hayakawa, a former BOJ chief economist, estimates the BOJ will probably lower its consumer price forecast to 0.3 percent or 0.4 percent for this fiscal year from 0.7 percent, and to 1.6 percent or 1.7 percent for the following 12 months.
Analysts predict that growth projections also will be cut as economic reports have signaled that a rebound in the third quarter won't be especially strong, after the economy contracted from April to June.
It's hard for Kuroda to ignore the strength of the economy as he is counting on the output gap and inflation expectations as two main drivers for moving consumer prices to his 2 percent target.
Consumer prices excluding fresh food fell 0.1 percent in August, dropping below zero for the first time since April 2013.
Little Political Pressure
Government officials aren't calling for further easing. Some officials in Abe's office and at the finance ministry see no need for the BOJ to further expand its stimulus program amid concern it would harm consumers, according to people with knowledge of talks inside the government.
Easing now wouldn't help Abe, according to Hiroshi Shiraishi, an economist at BNP Paribas Securities in Tokyo. More easing would weaken the yen and raise import costs, having the effect of limiting household purchasing power with little growth in wages before an upper-house election next year, he said.
Vote Tally
Unlike some central banks, the BOJ releases the vote count and the names of the voters along with the decision. Last year, stimulus was expanded only with a 5-4 vote -- the closest tally since October 2008. If the BOJ decides to keep policy unchanged on an 8-1 vote -- as it did earlier this month -- that could indicate the decision wasn't as close a call as some might have thought.
Before it's here, it's on the Bloomberg Terminal.
LEARN MORE