`Extreme' Debt Auctions in Denmark a First Taste of ECB Stimulus
Danish T-bill auction attracted most bids since 2012

Dragi's comments have sent krone to strongest in five months
Mario Draghi has so far only hinted at more euro-zone stimulus in December. But that's proving more than enough to send traders and investors into a panic outside the region.
In Denmark, where the central bank uses monetary policy to keep the krone pegged to the euro, there are plenty of signs that the currency war it thought it had won earlier in the year may erupt again.
In a treasury bill auction on Thursday, Denmark's debt office received 27.6 billion kroner ($4.06 billion) in bids as it sold for 6.5 billion kroner. That was the highest amount offered at an auction since May 2012, when Europe's debt crisis was heading into its darkest hours.
"It was an extremely high number of bids and they also decided to sell quite a large chunk," Jan Størup Nielsen, a Copenhagen-based senior analyst at Nordea, Scandinavia's biggest bank, said by phone. "It's often foreigners buying the Danish T-bills and this suggests that Denmark is becoming more interesting again for those investors."
Denmark's central bank earlier this year fought off a speculative attack on the krone's peg as it used both old and new tools to stop investors hoarding Danish assets. The bank cut its deposit rate to minus 0.75 percent, printed a record amount of kroner, which it then dumped on the market. It also suspended bond auctions to cut off foreign investors.
From around April, the bank slowly started a normalization process as pressure on the krone eased and money started floating out. But that all changed after Draghi's Oct. 22 speech. Since then, the krone has started to appreciate again and is now at its strongest against the euro in five months.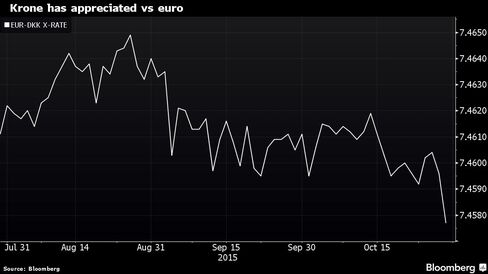 "We've learned that things can change very, very quickly with the krone," Nielsen said. "The central bank knows it has to be careful because the krone has strengthened. It could start to become a concern for the central bank."
Economists have pushed back forecasts for when the central bank will raise its deposit rate. Six analysts surveyed by Bloomberg last week all said the Danish rate increase they thought was coming this year will no longer happen.
"Danish government papers are becoming more attractive as the ECB is set to ease more with lower rares and more QE while the Danish central bank probably won't match those moves," Nielsen said. "That expectation is helping drive demand."
Before it's here, it's on the Bloomberg Terminal.
LEARN MORE