America's Merchandise Trade Gap Shrinks to Seven-Month Low
America's merchandise trade deficit narrowed in September to a seven-month low as exports rebounded, advanced data issued by the Commerce Department showed on Wednesday.
The gap shrank 12 percent last month to $58.6 billion, smaller than any estimate in a Bloomberg survey of economists, prompting some to raise their tracking projections for third-quarter growth. Shipments of goods to overseas customers climbed 2.4 percent, the biggest increase since March 2014, indicating the damage from a strong dollar -- which makes American-made goods more expensive -- is starting to dissipate.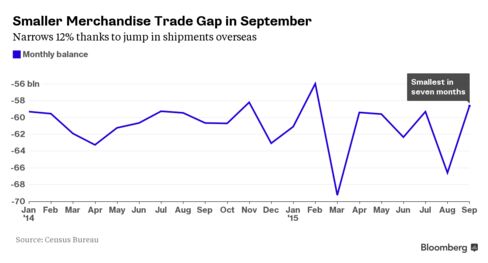 Economists at JPMorgan Chase & Co., Morgan Stanley and Amherst Pierpont Securities were among those boosting estimates for third-quarter gross domestic product after the rebound from August's $66.6 billion deficit, which was the second-largest shortfall since 2008. On Thursday, the Commerce Department will issue its first estimate of GDP for the July-September period.
"This may be a sign that the worst of the drag caused by the stronger dollar is now behind us, but it likely also reflects some normal volatility in the month figures," JPMorgan economist Daniel Silver said in an e-mail. The firm raised its GDP forecast to 0.9 percent from 0.6 percent.
Even with the September improvement, trade probably combined with less inventory accumulation to weigh on the economy last quarter. The median forecast in a Bloomberg survey of 79 economists calls for 1.5 percent third-quarter growth, less than half the 3.9 percent pace in the previous three months.
The September deficit in goods was smaller than the median forecast of $64.3 billion, based on estimates from 25 economists. The pickup in shipments to overseas customers was led by a jump in consumer goods. To a lesser extent, exports of motor vehicles, capital equipment and food also increased.
Imports Fall
Imports dropped 2.6 percent to $185.5 billion in September, the lowest level since February and reflecting a decline in demand for capital equipment, consumer goods, motor vehicles and industrial supplies such as oil.
Advance reports on monthly international goods-only trade allow Commerce's Bureau of Economic Analysis to incorporate three months of trade data into its first estimates of quarterly GDP. Previously, the BEA had two complete months of trade figures for goods and services to calculate its growth first estimate of GDP, leading it to project the trade balance for the final month of a quarter.
The monthly statistics on goods trade are released four to seven days before the more complete report on international trade that includes services. Data on the September trade balance in both goods and services is scheduled for Nov. 4.
Trade added 0.18 percentage point to second-quarter growth after subtracting 1.92 percentage points in the first three months of the year.
Before it's here, it's on the Bloomberg Terminal.
LEARN MORE