The Starter Apartment Is Nearly Extinct in San Francisco and New York
Just 9 percent of San Francisco one-bedrooms rent for less than $2,000 a month.
So you're looking for a one-bedroom apartment in San Francisco, and you have about $2,000 a month to spend. You know the city's median rent is more than $4,200 a month, but median means half the apartments cost less. Surely there are larger, more expensive apartments pulling up the midpoint.
Perhaps. But there's a reason Google employees are sleeping in their trucks.
Ninety-one percent of one-bedroom apartments in San Francisco cost more than $2,000 a month. Perhaps more surprising is the number of apartments that occupy the high end of rental rates: In Manhattan, a fifth of one-bedrooms rent for more than $4,000.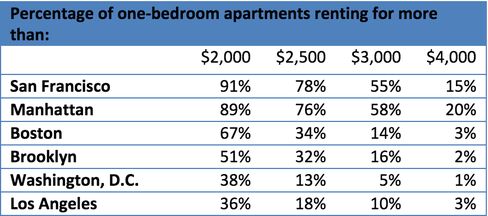 Those figures come from a report on Wednesday from Trulia, which pulled data from rental listings on its website. While we already knew these were expensive places to live, this view of the vertiginous rents in San Francisco, New York, and a handful of other cities paints a somewhat more useful picture of housing affordability.
For instance, the median rent for a two-bedroom in Boston costs $145 a month more than a two-bedroom in Washington, D.C. Only 13 percent of Boston two-bedrooms cost less than $2,000 a month, compared with 23 percent in the nation's capital.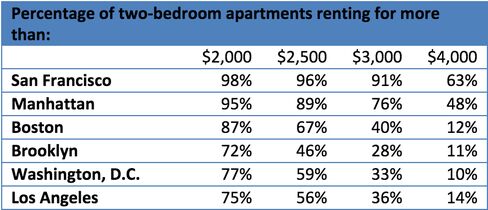 The full report takes a finer comb to these expensive cities, identifying 10 Manhattan neighborhoods where more than 95 percent of two-bedrooms cost more than $3,000 a month.
We've long known these are pricey rental markets. What these numbers show is the sheer scarcity of small apartments for rent at anything resembling a low rate in the country's most desirable cities.
Before it's here, it's on the Bloomberg Terminal.
LEARN MORE