The One Chart to Watch For The Next Euro Leg Lower: Analysis
The inverse link between FX and stocks in Europe.
The first signs of further euro weakness will come from any strengthening of inverse correlation between euro/dollar and European equities, as the common currency settles into a humdrum range after a sharp decline following European Central Bank President Mario Draghi's fresh stimulus comments, Bloomberg strategist Vassilis Karamanis writes.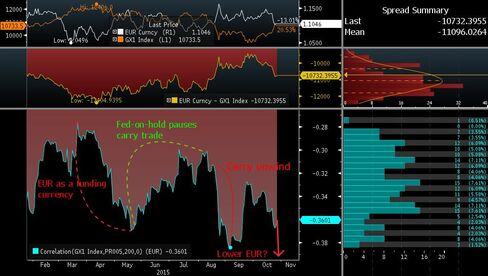 Real money investors (pension funds, asset managers, insurance companies among others) could be a catalyst for euro to test technical support near 1.08 versus the dollar, rather than the U.S. Federal Reserve. With the Federal Open Market Committee meeting ending today, Chair Janet Yellen isn't expected to hugely deviate from her recent rhetoric, and will probably maintain possibility of a liftoff in 2015. A more dovish than expected announcement could see the dollar paring even more gains and test 1.1242, the fifty percent retreat of its latest rally versus the euro. ECB's Draghi won't reveal his stimulus cards until at least the next ECB meeting, which is five weeks away; that means monetary policy divergence theme won't change for some time.
If the correlation between stocks and euro gets stronger, it could mean real money names are hedging fresh European equity holdings and re-entering euro carry trades. Such trades involve taking advantage of low rates to buy those of nations with higher yields. The common currency may test lower vs the greenback, even without fresh supply by real money names, should data from U.S. support higher risk of 2015 liftoff.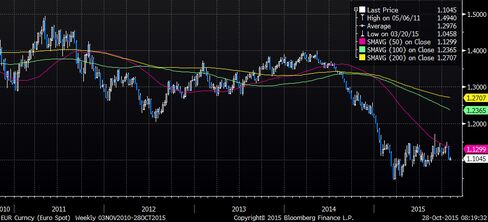 Euro downside vs the dollar has stalled this week after its biggest drop in five months. Two traders in London and one in southern Europe said real money names haven't participated in the latest euro selling spree. Another London trader said some real money names sold euros on Oct. 23, albeit not in very large sizes. All four traders, who asked not to be named as they are not authorized to speak to the public, said interbank and leveraged names have already bought dollars in large amounts and aren't seen adding at current levels.
Note: Vassilis Karamanis is a strategist who writes for Bloomberg. The observations he makes are his own.
Before it's here, it's on the Bloomberg Terminal.
LEARN MORE