The Anglo-Iraqi starchitect Zaha Hadid has designed just two residential buildings in the U.S., one in New York (520 West 28th Street in the Chelsea Gallery District next to the High Line) and one in Miami (One Thousand Museum, next to PAMM and overlooking Biscayne Bay). Both have yet to be completed and both, as it happens, have penthouses priced in the region of $50 million.

Two trophy properties by a Pritzker Prize-winning architect and two almost identical price tags? (The Miami penthouse clocks in at a mere $49 million, the New York penthouse an even $50 million.) It's practically begging for a head-to-head comparison.
They've both got the usual floor-to-ceiling glass windows, sweeping great rooms, libraries, and that ineffable, space-agey Zaha touch. In absolute terms, it's no secret you get more bang for your buck in Miami—the average price per square foot on the coastal mainland was just $234 in the third quarter of 2015, according to Douglas Elliman; in Manhattan during the same period, the average was a jaw-clenching $1,497. But the two penthouses' amenities and individual design touches give each other a run for the money.
Without further ado, we give you Hadid North vs. Hadid South: $50 Million Edition.
How Much Interior Space?
Miami: 15,200 square feet
New York: 6,853 square feet
Winner: Miami, with more than twice the square footage

How Gracious Are the Terraces?
Miami: 1,270 square feet of terraces
New York: 2,552 square feet of terraces
Winner: New York for pure space, although the views could use some work.
That Means It's How Much a Square Foot, Exactly?
Miami: $2,993
New York: $5,316
Winner: The developers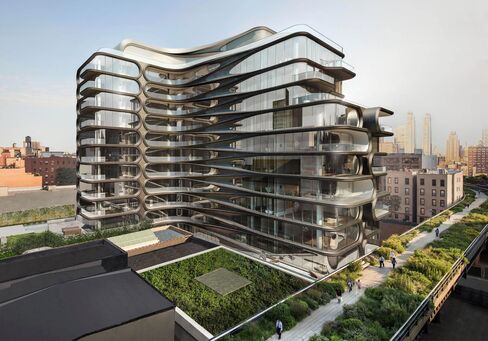 About Those Views ...
Miami: The Miami skyline, Biscayne Bay, and the Atlantic Ocean from almost 60 stories in the air
New York: The New York skyline and the much-frequented High Line park
Winner: Miami
How Many Bedrooms and Baths?
Miami: 6 bedrooms, 6 full baths, 2 half baths
New York 5 bedrooms, 6 full baths, 1 half bath
Winner: Miami, barely

Spread Out Over How Many Floors?
Miami: 2 (58th and 59th)
New York: 3 (9th through 11th)
Winner: New York
But Can I Access Each Floor With My Own Private Elevator?
Miami: Yes, given the apartment has three of them—the main elevator that services the building, the apartment's own elevator that goes from floor 58 to 59, and another private elevator to the helipad.
New York: Yes
Winner: Tie, sort of?

Oh Right ... a Heliport?
Miami: Yes, the building has its own heliport.
New York: This is New York, so no, there is not a heliport. There is a roof terrace with its own outdoor kitchen, refrigerator, sink, and barbecue grill, though.
Winner: Miami, if that's your thing.
Is There a Private Indoor Pool?
Miami: Yes
New York: No, but there's a spa in the building
Winner: Miami

Is There a Media Room?
Miami: Yes
New York: Yes
Winner: The person who coined the term "media room."
What About a Wet Bar?
Miami: No.
New York: Yes.
Winner: New York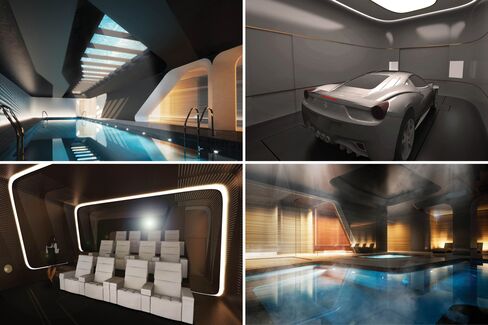 What About That Zaha Flair?
Miami: The building is unmistakably her design. The apartment, not so much.
New York: Just look at those windows, those terraces, that kitchen ….
Winner: New York
When Will It Be Completed?
Miami: The building will be done in 2017, the penthouse in 2018 (due to the expected level of customization by the buyer)
New York: Early 2017
Winner: New York and one lucky, antsy billionaire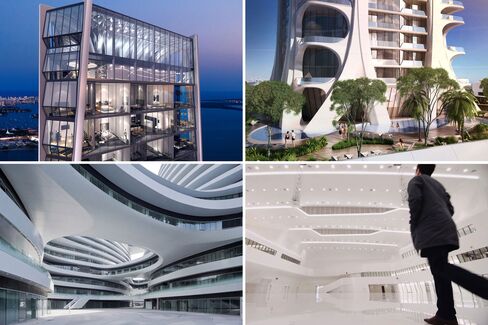 Overall Winner
Miami. The indoor pool pretty much sealed the deal. Still, Miami might have way more water than it would like in the very near future, so ... we hope whoever buys it tricks out that helipad.
Before it's here, it's on the Bloomberg Terminal.
LEARN MORE