John Cryan's Biggest Challenges at Deutsche Bank in Five Charts
New co-CEO presents his plans Thursday to revamp German lender

Cutting costs, improving market valuation at top of list
John Cryan, who became co-chief executive officer of Deutsche Bank AG in July, will reveal his plans to revamp Germany's largest bank and restore investor confidence on Thursday, the same day the company publishes quarterly results.
Cryan, 54, took over after investors lost patience with his predecessor's failed efforts to reduce costs, boost profitability and improve shareholder returns. The co-CEO is considering measures including job cuts, smaller bonuses and asset disposals, people with knowledge of the matter have said.
Deutsche Bank already shook up management and estimated it will post a third-quarter loss of 6.2 billion euros ($6.9 billion) after writing down the value of its two biggest divisions and boosting reserves for legal costs. This year's dividend may be scrapped to conserve capital.
Below are five charts that illustrate hurdles Cryan will face as he tries to win over investors.
1. Deutsche Bank's expenses are likely to remain elevated, analysts estimate, even after the company said in April it would trim costs by a gross 3.5 billion euros by 2020.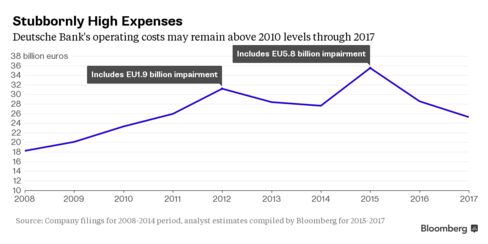 2. Investors give Deutsche Bank a lower valuation than global peers, underlining pessimism about the current strategy.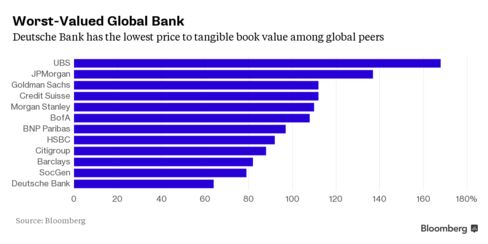 3. The company depends on often volatile securities trading for revenue, even as rising capital demands make those businesses less profitable. The lender plans to sell Deutsche Postbank AG, a German consumer bank, next year.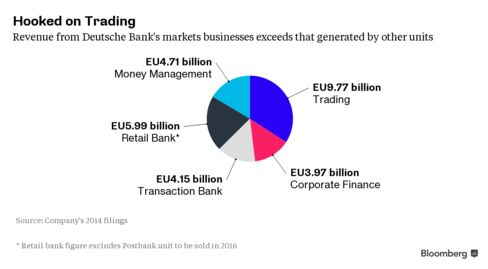 4. Deutsche Bank isn't earning enough to justify its costs, which account for a higher proportion of revenue than at competitors.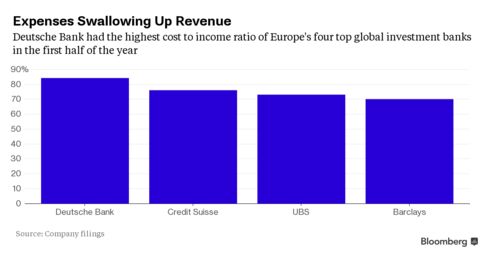 5. The bank faces pressure on its key measure of capital, even after tapping shareholders for funds twice in just over two years. Analysts at Macquarie Group Ltd. predict Cryan will eventually "fall off the high-wire" of managing costs and regulation and sell more stock.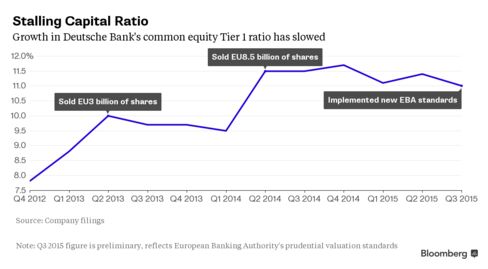 Before it's here, it's on the Bloomberg Terminal.
LEARN MORE