Japan's Industrial Production Unexpectedly Rises in September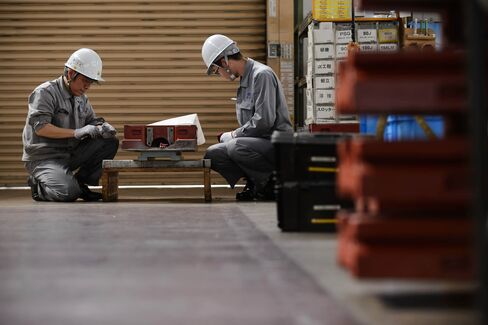 Output data released day before BOJ monetary policy meeting

Economists had expected a drop of 0.6 percent in September
Japan's industrial production unexpectedly increased in September, potentially raising the bar for an expansion in Bank of Japan stimulus at Friday's policy meeting.
Output climbed 1 percent from the previous month, exceeding all 32 estimates in a Bloomberg survey, which had a median forecast for a decline of 0.6 percent. Electronic parts, devices and chemicals led the advance last month, in the face of a Chinese slowdown that has undermined Japanese exports.
The output report was viewed as a crucial data point by BOJ officials as they prepared to consider whether to step up what's already an unprecedented asset-buying program, people with knowledge of the discussions said last week. Yen trading reflected some reduction in expectations for action from the BOJ, with the currency up 0.2 percent following the release.
"The positive production data requires no change for the BOJ's optimistic view for the economy," said Kazuhiko Ogata, an economist at Credit Agricole SA. He forecast a 0.5% increase in output, which was the highest estimate in the Bloomberg survey. "Still, this doesn't change the fact that uncertainties are still high for the outlook of Japan's economy and the BOJ is far from 2 percent inflation target. Additional easing remains a question of when, not if."
JPMorgan Chase & Co and Barclays Plc said they are keeping to their forecast that the BOJ will bolster stimulus Friday even though production data beat their estimates. JPMorgan cited soft inflation and wage growth while Barclays cited the lack of signs of a clear acceleration in the economy for the fourth quarter as factors in holding to the forecasts.
Beat Forecasts
Production slid 0.9 percent from a year earlier. Companies forecast it would jump 4.1 percent in October from September, before dropping back 0.3 percent in November.
Significant contributors to the output gain in September included electronic parts and integrated circuits used for smartphones and other devices as well as cosmetics. Production of cosmetics increased ahead of sales of new products.
The yen strengthened after release of the data. It traded at 120.80 per dollar at 9:13 a.m. in Tokyo. The Topix index of stocks opened up 0.5 percent after the U.S. Federal Reserve said global risks had diminished and signaled confidence in the U.S. economy, paving the way for a potential interest-rate increase in December.
Economists remain split on whether the BOJ will boost monetary stimulus at its meeting Friday. While 16 of 36 analysts surveyed by Bloomberg said they expect Kuroda and his board to bolster monetary policy, eight forecast further easing at a later date and 12 see no prospect of change in the foreseeable future.
Other Data
Data on hiring, spending and inflation also are set to be released Friday. A government report Wednesday showed that retail sales gained 0.7 percent in September from August, missing a 1.1 percent increase estimated by economists surveyed by Bloomberg.
Analysts lowered their projections for Japan's growth after a government report last month showed that production unexpectedly fell in August. Also, gross domestic product shrank in the second quarter, and is forecast to rebound just 0.6 percent in the third quarter, according to a Bloomberg News survey conducted from Oct. 2 to Oct. 7. The forecast, which includes some predictions of a contraction in the third quarter, was lower than the September survey of 1.2 percent growth.
Before it's here, it's on the Bloomberg Terminal.
LEARN MORE