Flipboard's Fanfare Fades as Executives Exit, Sale Talks Stall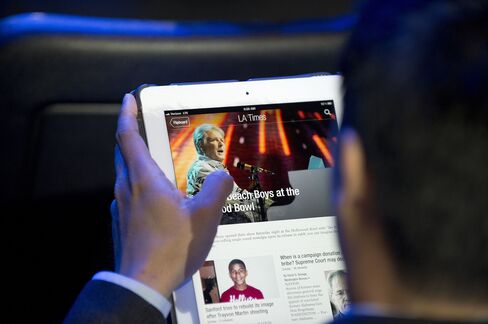 Mobile app's innovative reader debuted with iPad hype in 2010

Startup's struggle underscores questions about tech valuations
Flipboard Inc. debuted in 2010 with the kind of fanfare any startup would envy. The news-reading app piggybacked perfectly on the debut of Apple's iPad tablet and Steve Jobs's promise of a new era for digital media. Critics loved Flipboard's magazine-like layout, created by one of the first software designers of the iPhone, and investors poured money into the company.
Almost five years later, Flipboard is struggling to live up to the praise. Several senior executives have departed, including co-founder Evan Doll, and talks to sell the company haven't reached the finish line, according to people familiar with the plans, who asked not be named discussing private matters.
Flipboard's woes are indicative of a larger malaise gripping startups across the technology landscape as questions emerge about the sustainability of the tech-investment boom. Flipboard is performing well enough -- and, after raising more capital earlier this year, is at no risk of going out of business -- but is no longer a breakaway hit. People are finding media through their Facebook or Twitter feeds, limiting the need for a stand-alone application like Flipboard. Meanwhile, advertising rates -- the company's main revenue stream-- have been in decline. While Flipboard's reading app was a showpiece for the iPad five years ago, the company is now working to adjust to a changing digital-news market and live up to its $800 million valuation.
Startup Challenges
Other companies facing similar questions about whether they can make good on early investor expectations -- and lofty private-market valuations -- include online storage service Dropbox Inc., note-taking company Evernote Corp., music-streaming service Deezer SA and blood-testing company Theranos Inc., said Anand Sanwal, chief executive officer of CB Insights, a firm that tracks startup investing. The companies face a challenge in that they could be too expensive for another company to buy, yet may not have the business fundamentals to justify their valuations to public investors through an initial public offering, he said.
"A lot of these folks are getting credit for future value today, and they have to grow into that," Sanwal said. "If the growth isn't materializing as expected, then that's a problem."
Flipboard co-founder and CEO Mike McCue said the company's business is stronger than ever and that any questions about its health are misplaced. The company this year is on pace to double its revenue and number of users, which is currently about 80 million, up from 41 million last year. Advertisers include Levi Strauss & Co., Lexus, Intel Corp. and Morgan Stanley. Flipboard's revenue growth stalled last year but has picked up considerably since October 2014, McCue said.
Flat Valuation


"There are a lot of companies out there that have been chasing high valuations and hyping things and building unsustainable businesses," McCue said. "We aren't one of those companies."
McCue sold his previous company, TellMe Networks, to Microsoft Corp. for about $800 million. Flipboard kept its valuation flat during its last fundraising round to help draw in investors including JPMorgan Chase & Co., he said.
"I probably could have raised money at a really high valuation from people who aren't nearly as thoughtful or credible as JPMorgan, but I didn't want to do that," he said. "I also didn't want to goose our valuation. I felt that was the right thing to do."
Executives Depart


Still, Palo Alto, California-based Flipboard has lost members of its executive ranks. Doll said this month that he's becoming an entrepreneur-in-residence at venture capital firm Redpoint Ventures. Other departures included former Chief Financial Officer Jeff McCombs, Chief Revenue Officer Colm Long and Chief Technology Officer Eric Feng. Eugene Wei, the company's head of product, also left.
Flipboard said the changes had been planned for and took place over the course of a year and a half. Company veterans were promoted to take on new leadership roles.
New Features


Differing views about the company's direction contributed to some of the executives leaving, said one person close to the company. Flipboard has added new features to its app, such as ways for people to curate their own online magazine to share, but they haven't gained much traction.
McCue has entertained acquisition offers. Negotiations to sell to Twitter Inc. for about $1 billion fell apart around the time the social network was embarking on a shakeup of its executive ranks that eventually led to co-founder Jack Dorsey's return as CEO, according to two people familiar with the talks. Meanwhile, on again-off again talks with Yahoo! Inc. haven't produced a deal, one person said. In 2013, the company also held talks to sell to Apple Inc., one person said.
"There are a lot of companies that are interested in acquiring us and there always has been," McCue said, without providing specifics.
Kristin Huguet, a spokeswoman for Apple, didn't return calls seeking comment. Jim Prosser, a spokesman at Twitter, and Sarah Meron, a spokeswoman for Yahoo, declined to comment.
Flipboard's recent difficulties underscore how much the market has changed since 2010, when Flipboard's app seemed revolutionary as a way to read news on a tablet or mobile device. McCue's record as a successful entrepreneur helped the company raise roughly $210.5 million during five rounds of fundraising.
Falling Ad Rates


Now, the app is 1,129th on App Annie's rankings of mobile-app downloads, though that figure doesn't account for devices that ship with Flipboard pre-installed. Apple itself unveiled a home-grown news-reading app for its devices earlier this year. Advertising rates also have come down as much as 75 percent, one person said, as marketers have more options for reaching people on their mobile devices. While Flipboard has added users through a partnership to have its app come loaded on Samsung phones, it has been hurt by a seven-quarter decline in iPad shipments.
Flipboard's challenges are an example of what other startups will face as they age. Said Barry Kramer, a partner at law firm Fenwick & West who works with many startups: "The longer these companies stay private, the more pressure builds up."
Still, McCue said that while Flipboard may not be as buzzy as newer startups, the company's business is sound.
"We're not Snapchat, but we're a pretty impressive company," he said.
(An earlier version of this story was corrected to fix the misspelling of a name.)
Before it's here, it's on the Bloomberg Terminal.
LEARN MORE