Natural Gas Needs Bone-Chilling Winter to Avoid 1990s-Era Prices
Futures tumble below $2 as U.S. inventories approach record

Forecasters predict warmer-than-normal winter for U.S. East
The average price for natural gas in the U.S. this year is now the lowest since Bill Clinton was president. And a forecast for a warm winter ahead means there's no end in sight to the slump.
Futures tumbled below $2 per million British thermal units Tuesday amid mild weather and surging output from shale basins. Supplies on the Gulf Coast, the biggest onshore producing region, are already breaking records, and U.S. inventories are poised to reach unprecedented levels before winter temperatures boost demand.
That means traders betting on higher prices had better hope for bone-chilling cold in the months ahead. If meteorologists' predictions of a warmer-than-normal winter are correct, a stockpile glut to the five-year average will persist into next year. A similar scenario in 2012 sent gas prices to decade lows.
"If we do end up with a much warmer-than-normal winter, the bullish scenario for prices would be pushed out to 2017," Sabine Schels, a commodity strategist at Bank of America Corp. in London, said by phone. "Even under normal weather conditions, the market would still be very well supplied."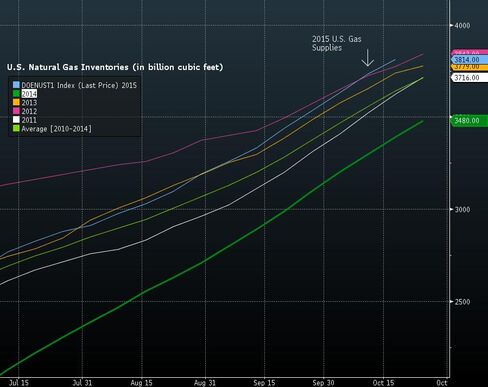 Natural gas for November delivery, which expired Wednesday, fell to $2.033 on the New York Mercantile Exchange, the lowest settlement since April 2012. The December contract closed at $2.298. Gas slumped as low as $1.948 in intraday trading Tuesday. Front-month prices have dropped 30 percent this year, heading for the smallest annual average since 1999, and hedge funds trading the fuel are the most bearish ever.
The supply boom has been too much for some storage reservoirs to handle. Gas stashed in salt caverns in the southern central U.S., which produces most of America's output, has reached a record 357 billion cubic feet, just 13 percent below estimated capacity. Southern Star Central Corp., which operates a pipeline system in the Midwest, says storage on its system is almost full.
U.S. gas inventories have been above the five-year average since the week ended May 29. Stockpiles totaled 3.814 trillion cubic feet as of Oct. 16, 4.5 percent more than the norm, and will probably reach an all-time high of 4 trillion before cold weather stokes demand, according to John Kilduff, a partner at Again Capital LLC, a New York-based hedge fund that focuses on energy.
"A warm winter is going to be very problematic for the bulls," Kilduff said by phone. "We're going to have a significant supply overhang going into 2016."
El Nino
Gas bulls can't count on a cold winter to absorb the excess supply. The El Nino weather pattern, a warming of the Pacific Ocean that can result in a mild winter in the Northern Hemisphere, has a 95 percent chance of persisting through February, the U.S. Climate Prediction Center said. About 49 percent of U.S. households use gas for heating.
"From a temperature standpoint, demand is just not there," Jason Schenker, president of Prestige Economics LLC in Austin, Texas, said by phone Oct. 27.
An abundance of gas supply from shale reservoirs, which accounted for 47 percent of U.S. production in 2013, is contributing to the glut. Output from the Marcellus formation, the nation's largest by volume, is up 5.2 percent from a year ago and has surged 14-fold since the beginning of 2007, data from the U.S. Energy Information Administration show. Total U.S. gas production will expand 5.6 percent this year to a record 79.06 billion cubic feet a day, while demand will rise by only 4.2 percent, according to the EIA.
Analysts have lowered their price outlooks in anticipating of lingering oversupply. Goldman Sachs Group Inc. cut its 2016 gas price estimate to $2.85 per million Btu from $3 in a report dated Oct. 20, while Bank of America reduced its fourth-quarter 2015 forecast to $2.70 from $3.20.
"The U.S. gas market has remained well oversupplied with industrial demand continuing to disappoint and production coming in above our expectations," Goldman Sachs analysts Damien Courvalin and Raquel Ohana wrote in the report.
Producer Pain
Producers are feeling the pain. The Standard & Poor's Oil & Gas Exploration and Production Select Industry Index is down 27 percent this year, and the number of rigs drilling for gas dropped to a record low of 189 in the week ended Oct. 9, according to data from Baker Hughes Inc.
One possible bright spot for the gas market next year: Output is beginning to show signs of weakness. Production from the Marcellus formation may fall for a fifth straight month in November, the EIA said Oct. 13 in its monthly Drilling Productivity report.
"Producers really haven't been able to make any money with prices below $3," Bank of America's Schels said. "Only the producers in a select handful of areas with the best assets have been able to stay profitable. In most other areas, producers have had to sharply curtail spending and reduce the rig count."
Before it's here, it's on the Bloomberg Terminal.
LEARN MORE