Iran's Syria Aid Deepens as It Jockeys for Role in Talks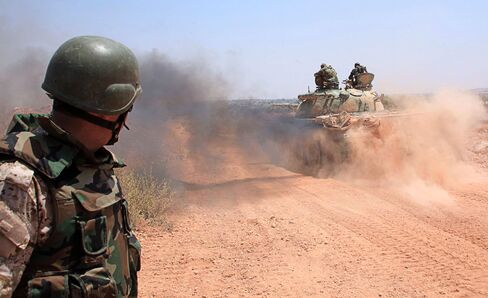 Iran has extended its military support to Syria to include training, recruitment assistance and help to revamp its army, following a request from President Bashar al-Assad's regime, a senior Iranian military official said.
"The army has been involved for four years in a draining war, it needs a structural change," Brigadier General Hossein Salami, deputy head of Iran's Revolutionary Guards, said in an interview broadcast late Monday cited by Tasnim news agency. Iran has provided strategic and operational advice, including training on maintaining and repairing equipment, he said.
The comments come weeks after Russia began airstrikes against opponents of Assad's regime, including rebel groups backed by western and Gulf nations. Iran has been Assad's primary outside supporter since Syria's civil war began in 2011, and revealing rare details of its involvement may be an attempt to ensure it isn't overlooked as talks on finding a solution in Syria gather pace, said Sami Nader, head of the Beirut-based Levant Institute for Strategic Affairs.
"Iran has to make its show to say 'We are in charge, we have the boots on the ground, it's not only about air supremacy,'" Nader said by phone. "This is a show of force to say, 'You cannot make any deal without our participation. We are an unavoidable partner.'"
Iran wasn't included in talks between Russia, the U.S., Turkey and Saudi Arabia in Vienna last week. U.S. Secretary of State John Kerry told reporters the Islamic Republic may be asked to join the negotiations eventually, but no decision has yet been reached. The discussions are expected to resume as early as Friday.
Iran, Egypt and other countries in region should be invited to the next round of talks, Russian Foreign Minister Sergei Lavrov said at a press conference in Moscow on Tuesday.
More Casualties
Backed by Russian airstrikes, Syrian and Iranian troops have renewed their ground offensive in recent weeks, especially around the key cities of Aleppo and Hama. That's coincided with more reports of Iranian casualties, some of them high-ranking officials in Iran's Revolutionary Guards.
Brigadier General Hassan Hamedani, the head of the Guards' elite Quds Force in Syria, was said to have been killed earlier this month in clashes with Islamic State militants.
Salami downplayed the losses as "not many," while acknowledging that they "appear more visible than before."
Assad's troops have also suffered a series of setbacks this year. The Syrian Observatory for Human Rights, a U.K.-based organization that monitors the conflict, said in May that Islamic State controls half of the country's territory.
In July, Assad took the unusual step of acknowledging that his government is struggling to crush the four-year rebellion to end his rule, and urged more Syrians to join the army. The number of soldiers isn't enough to win a conflict fought on multiple battlefronts, Assad said at the time.
Assad is part of Syria's Alawite minority, whose faith is an offshoot of Shiite Islam, as are most of the army's officers and troops, according to analysis by Stratfor Inc. More than 70 percent of the country's population is Sunni Muslim.
"The national security of Syria and Iran are tied together, and understanding this reality is the philosophy of our presence in Syria," Iranian Brigadier General Salami said. Assad's regime "has become the front-line for resistance" against the U.S. and Israel, he said.
Salami's comments are intended to assert his country's role in Syria and to "make clear that Iran must have a seat at the negotiating table," Riad Kahwaji, director of the Institute for Near East & Gulf Military Analysis, said by phone from Warsaw.
Before it's here, it's on the Bloomberg Terminal.
LEARN MORE