Doves Circling Polish Central Bank Spell More Trouble for Zloty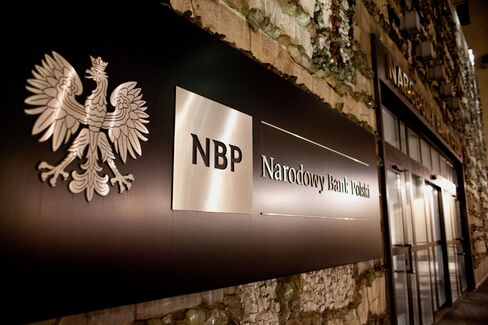 Poland's zloty is worst-performing EM currency this month

Law & Justice favors rate-cut advocates in central bank
The odds are stacking up against the Polish zloty as a landslide victory by the opposition party puts interest-rate cuts back on the central bank's agenda.
Bearish bets on this month's worst-performing emerging-market currency outweigh bullish wagers, according to options data on Monday, suggesting there may be more losses in store as the Law & Justice party looks set to take a majority of seats in parliament. As the currency fell 0.7 percent against the euro in October, BNP Paribas SA said the exchange rate may weaken further, while Barclays Plc said in a report this week it favored the Hungarian forint over the zloty.
Forward-rate agreements showed traders increasing bets for interest-rate cuts to the highest since March as speculation grew that a parliament dominated by Law & Justice members would appoint central bank policy makers who favor resuming interest-rate cuts to shore up the economy. Risks the new government will deliver on promises to drive up spending and potentially exacerbate the budget deficit could also weigh on the zloty, according to Royal Bank of Scotland Plc.
"With the current set-up in parliament, the next Monetary Policy Council will be very dovish," Michal Dybula, a Warsaw-based economist at BNP Paribas SA, said by phone on Monday. "It is likely they will cut rates next year and that will weaken the zloty."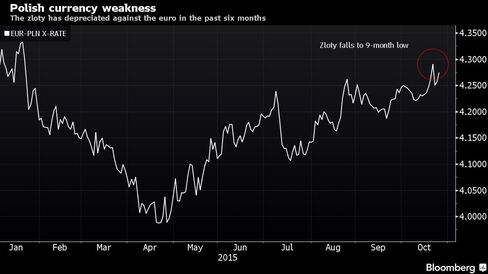 Law & Justice won 37.7 percent of the vote and a projected 232 seats in the 460-member lower chamber, the first time that a single group will command a majority since the re-introduction of democracy in Poland in 1989, according to an Ipsos exit poll which includes partial results.
'Negative Camp'
"I'm in the cautiously negative camp," Gabor Ambrus, a London-based economist at Royal Bank of Scotland, said by e-mail on Monday. "The general assumption seems to be that they will water their promises down. But if indeed Law & Justice will move to implement too much of its spending plans, it may cause another wave of disappointment on markets."
The yield on Poland's 10-year zloty government bonds rose eight basis points to 2.69 percent on Monday. The bonds lost 0.4 percent in dollar terms this month, compared to a 2.5 percent gain for its developing-nation peers, data compiled by Bloomberg shows. There's a 33 percent probability of the zloty weakening 3 percent against the euro by the end of the year, compared with a 26 percent chance of a same-size appreciation.
Forward-rate agreements indicated scope for more than a quarter-point cut in interest rates in the next six months, the biggest bets on easing since March, according to data compiled by Bloomberg.
"I don't think Law & Justice will clash with markets," Ilan Solot, an emerging-market currency strategist at Brown Brothers Harriman in London, said on Monday. "Their promises have to some degree been about winning the election. The prospects for the zloty aren't as good as they used to be, but with campaigning over the zloty will be back to range trading."
Revolving Doors
The central bank under Governor Marek Belka, whose term ends in mid-2016, has resisted calls to reduce borrowing costs since lowering the benchmark rate to 1.5 percent in March, even as consumer prices dropped in annual terms for 15 successive months. Price growth has been below the bank's 2.5 percent target since 2012.
The composition of the bank's rate-setting committee will change by February, when the next parliament will vote in six of its 10 members. President Andrzej Duda, also from Law & Justice, will appoint a further two panelists and pick Belka's successor. The party will favor candidates with a dovish approach to monetary policy, lawmaker Henryk Kowalczyk told PAP news agency last week.
"All of the recently presented ideas from Law & Justice increased the uncertainty around the stability of policy-making in Poland," Erste Group AG analysts, including Katarzyna Rzentarzewska, wrote in a report on Monday. "The victory of Law and Justice supports a weaker zloty."
Before it's here, it's on the Bloomberg Terminal.
LEARN MORE