China's Stocks Rise to Two-Month High as Defense Shares Rally
Shipbuilders jump as U.S. warship sails near Spratlys

Industrial companies' profits retreated in September
China's stocks rose, reversing losses in the last 30 minutes of trading, as technology shares rebounded and defense-related companies advanced after a U.S. navy patrol sailed close to islands claimed by Beijing.
The Shanghai Composite Index added 0.1 percent to 3,434.34 at the close, erasing a slump of as much as 2.8 percent. Aerospace Communications Holdings Group Co. and China Shipbuilding Industry Co. both jumped more than 8 percent. Commodity producers declined, with Anhui Conch Cement Co. slipping 0.9 percent after reporting lower profit.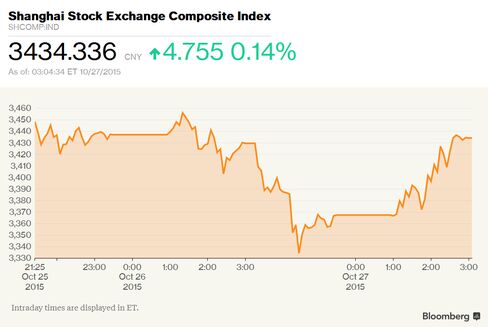 The Shanghai Composite has rebounded 12 percent this month as investors lifted bullish bets to a two-month high and the government cut borrowing costs to bolster the economy. China's recorded growth rate of 6.9 percent in the third quarter was the weakest since 2009. Trading volumes in the index were 15 percent higher than the 30-day average on Tuesday.
"Military tension in the South China Sea is always a hot issue and the market is quite sensitive to the related news flow," said Wei Wei, an analyst at Huaxi Securities Co. "Defense stocks are good bets on the theme. The technology area is probably where the government will put more resources in the future as a new growth driver for the economy. "
The CSI 300 Index added 0.1 percent. Hong Kong's Hang Seng China Enterprises Index lost 0.3 percent, while the Hang Seng Index rose 0.1 percent.
Industrial Profits
Mainland Chinese stocks slumped earlier in the day after the government released data showing industrial profits dropped 0.1 percent last month. Coupled with overcapacity and deflation, slumping profits are the latest sign China's 2015 growth target of 7 percent is at risk.
Communist Party leaders are meeting in Beijing to map out a five-year plan for the nation's economic and social development. At the plenum, policy makers are expected to announce a dismantling of currency controls, lower barriers for foreign non-bank financial firms, emphasize home-grown technologies and prioritize population growth.
Rising Tensions
Gauges of technology and industrial companies in the CSI 300 gained 2.4 percent and 0.6 percent respectively for the best performers among the 10 groups. Aerosun Corp. surged by the 10 percent limit, while shipbuilder China CSSC Holdings Ltd. advanced 8.4 percent.
The USS Lassen passed within 12 nautical miles of Subi Reef in the Spratlys island chain, according to a U.S. defense official who spoke on the condition of anonymity. U.S. officials have repeatedly said they'll act to protect freedom of navigation in one of the world's busiest commercial waterways. China is verifying reports of the U.S. patrol, Foreign Minister Wang Yi said, according to a statement on the ministry's website.
The Shanghai gauge has rebounded 17 percent from this year's low on Aug. 26 as the government took measures to stabilize the stock market after a $5 trillion rout and policy makers introduced stimulus to boost economic growth. The People's Bank of China on Friday announced a 25 basis-point cut in the benchmark lending rate, while reserve-requirement ratios for lenders were reduced by 50 basis points.
While Mark Mobius is convinced that China's push into technology, consumer and service industries will produce a more sustainable expansion in the world's second-largest economy, he's just not so sure it's going to work out for equity investors.
New Economy
The chairman of Franklin Templeton's emerging-markets group predicts China's "new economy" sectors will drive growth as the nation weans itself from a reliance on credit-fueled investment. The problem, Mobius says, is that many stock valuations already reflect a successful transition.
"We are facing a little bit of what we faced in 2000, in the sense of some people getting too excited about certain kinds of companies, certain kinds of mandates, and we need to be cautious," said Mobius, whose $1.2 billion Templeton Asian Smaller Companies Fund has outperformed 85 percent of peers tracked by Bloomberg in the past five years. "The transition is definitely on its way and is going to be successful. It doesn't mean that all the companies will be successful."
The small-company ChiNext index, dominated by technology and new economy shares, trades at 71 times reported profit, more than four times the valuation multiple for the Shanghai Composite, data compiled by Bloomberg show. A gauge of technology firms in the CSI 300 jumped 26 percent over the past month through Monday, versus 11 percent for the broader measure.
Traders increased holdings of Shanghai shares purchased with borrowed money by 1.1 percent to 625 billion ($99 billion) on Monday, the highest level since Sept. 1.
— With assistance by Shidong Zhang
Before it's here, it's on the Bloomberg Terminal.
LEARN MORE