The Federal Reserve kicks off its two-day meeting on interest rates Tuesday. It's more a case of the message policymakers convey than what they do, with the cost of borrowing forecast to stay at a record low. Put simply, there's a 4 percent chance the Fed will hike rates, according to Fed fund futures. This coming March seems to be the most likely month of a change in policy, with the probability of an increase at 58 percent. Another central bank meeting is looming at the end of the week. Economists are divided on whether the Bank of Japan will boost its record stimulus. Asian stocks fell for the first day in three, while emerging market equities dropped for a second session as the feel-good factor from China's sixth interest rate cut in a year dissipated. European equities fell for a second day.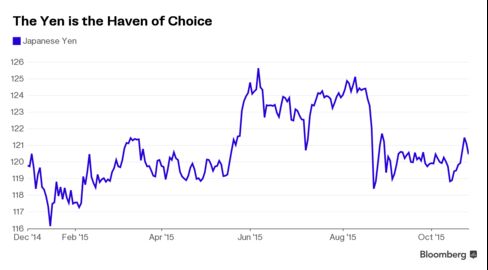 As investors await the outcome of two major global central bank meetings, the yen has resumed its role as a refuge. The Japanese currency is rising against all 31 of its major peers. Only last week it had its biggest drop against the dollar since the end of May. The yen's strength may reflect diminishing expectations the Bank of Japan will loosen policy on Friday. Sixteen of 36 analysts surveyed by Bloomberg expect the BoJ to expand stimulus. The yen is the second best-performing major currency against the dollar in 2015 after the Swiss Franc. It has fallen 0.6 percent.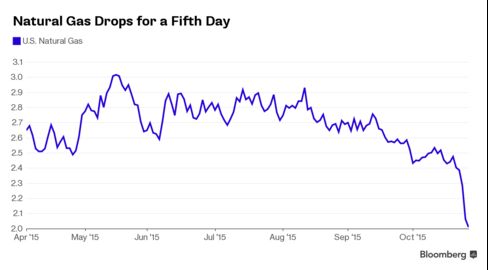 U.S. natural gas sank below $2 per million British thermal units in New York for the first time since April 2012. Prices have fallen for five consecutive days, the longest losing run for over a month, as stockpiles near a record. The 19 percent slump in that period is the biggest in 20 months as unusually warm U.S. weather hampers demand, leaving supplies hovering at the highest level for this time of year since 2006. U.S. natural gas has sunk 30 percent in 2015.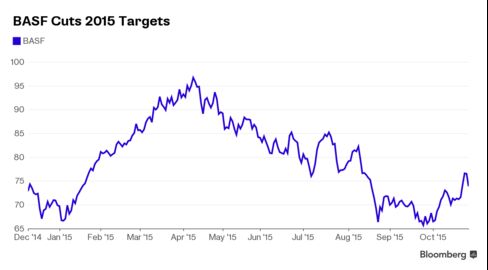 BASF shares sank 5 percent after the world's biggest chemical maker cut its 2015 growth targets. Blame a slump in oil prices and slowing demand from China and Brazil. Third quarter earnings and sales also missed estimates. On top of slowing growth in emerging markets, the German company has had to contend with slack demand in Europe and the fallout from sanctions in Russia. Since shares hit a record in April, BASF has slumped 24 percent.
Mark Barton is a presenter on Bloomberg TV. Follow him on Twitter @markbartontv
Before it's here, it's on the Bloomberg Terminal.
LEARN MORE