Brazil Again Scraps 2015 Budget Target on Economic Slump
Primary gap to total at least 0.85 percent of GDP this year

Recession and political crisis upended austerity efforts
Brazil's government has given up on posting a budget surplus before interest payments this year as an economic contraction and dissent in Congress undermine its fiscal-austerity policies.
The government will target a so-called primary budget deficit of 51.8 billion reais ($13.3 billion), the Budget and Planning Ministry said Tuesday. States and cities are expected to post a primary surplus of 2.9 billion reais, giving the government as a whole a deficit of 48.9 billion reais, or about 0.85 percent of gross domestic product. Investors and credit-rating companies pay close attention to Brazil's primary target, which must be approved by Congress.
The government's budget deficit before interest payments could expand to 1.04 percent of GDP if plans to auction infrastructure projects are canceled or fail, according to the ministry. The gap could also grow if auditors force the government to repay what it owes state banks in one lump sum, the lawmaker responsible for the budget bill, Hugo Leal, said Tuesday. Congress is likely to approve the revised targets as they are "realistic," he said, adding a committee will start voting on the goals as early as Wednesday.
Carlos Kawall, chief economist at Banco Safra in Sao Paulo, isn't convinced the government has enough support in Congress to get the proposal approved. "I see a lot of people worried they won't even get this passed," Kawall said. "OK, it's good to be truthful, but it's nothing to celebrate."
President Dilma Rousseff's economic team is bowing to reality after its plans of reversing last year's primary budget deficit became increasingly elusive. It started 2015 aiming to cut spending and raise taxes only to see the economic downturn eat away at federal revenue and an unruly Congress fight its austerity bills. While today's announcement was widely anticipated, it still could pose a risk to Brazil's credit rating.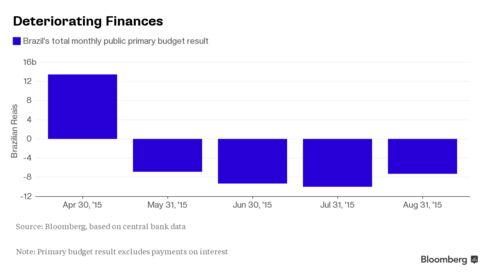 Standard & Poor's took away Brazil's investment-grade status last month, cautioning that an additional reduction is possible. Fitch Ratings followed in October by downgrading the nation to the cusp of junk, saying it too could cut again as federal finances deteriorate.
The administration in July lowered its primary target for the entire government to a surplus equivalent to 0.15 percent of GDP from its prior goal of 1.1 percent.
Before it's here, it's on the Bloomberg Terminal.
LEARN MORE