Transgender Tourism: For $2,000 a New Life Begins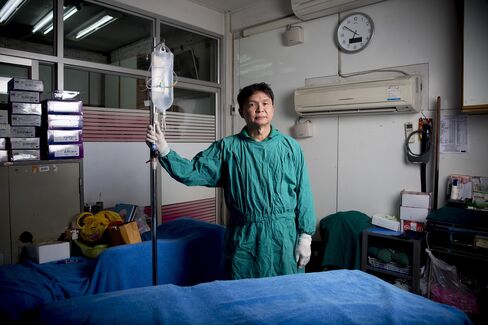 Thep Vechavisit uses local anesthetic and sedatives to block the pain from the two-hour surgery he performs in a cramped room in his Bangkok clinic. It's possibly the cheapest sex-reassignment operation in the world.
For about 70,000 baht ($1,950), patients' male genitalia can be reassigned female in a procedure Thep says he does once a week in his Pratunam Polyclinic, a solo practice in Bangkok's low-rent garment district. By spurning general anesthetic, an anesthetist and hospital operating theater, the surgeon says he can save 40,000-to-50,000 baht in medical costs.
"When you were trained in the past, they always tried to teach the doctor that you have to provide a good service at a reasonable price, and not make the patient pay a lot of money," Thep says over a can of Pepsi in his office, a partitioned space barely big enough for a desk and a few chairs. "This is still in my mind."
Thep is unapologetic about his no-frills approach, which he says makes his services more affordable for the increasing numbers of transgender patients who come to Thailand from across Asia for surgery. With societal prejudices against trans people waning, more people are seeking to transition to the opposite gender, bolstering demand for gender identity services.
While governments and insurers in Western Europe and North America are recognizing the need to pay for the treatments, Asia is lagging behind, Thep says. That's disadvantaging his patients, who increasingly are coming from China, Cambodia, Vietnam, Myanmar, Malaysia, India and Nepal.
Transgender Friendly
"Society is more generous to accept these kinds of people, especially in China," he says after finishing a male-to-female operation late one Friday evening in September. "In the past, a doctor could not open a clinic like this -- if you did this surgery in China, you'd be killed. But now I think the world's changed. People are much more generous to accept transgender."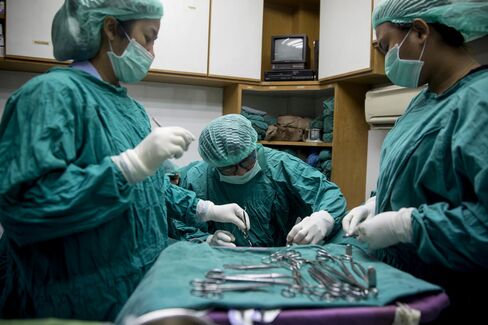 While Thailand boasts upscale hospitals with marble floors, chandeliers and giant floral arrangements in their foyers, Thep's clinic is no-frills. Boxes of surgical supplies are stacked in front of the reception counter and loose wires hang from uncovered fluorescent lights on the ceiling in the waiting room.
The 63-year-old, who trained as an ear, nose and throat surgeon, does almost a dozen operations in a typical 12-to-14-hour work day, with gender-affirming procedures usually done at the end. His nurses don't like him doing them, he says. In the few hours it takes him to reassign a patient's genitalia, he could insert eight or nine breast implants, earning 500,000 baht.
"My staff always try to reject the case because they think it's not worth doing," Thep says. "They always say, 'Doctor, you are stupid!' I say, 'No. You have to understand, some people need the surgery. You cannot say no."'
Tried and Tested
He got into gender surgery after correcting a botched operation more than 20 years ago and thinking he could offer a better service. Thep now counts more than 1,000 cases, using a technique he learned at a workshop conducted by the late British urologist Peter Philip, who performed gender reassignments at London's Charing Cross Hospital last century.
"You have to find a technique that's safe and effective and that you're skilled enough to do," says Thep, who operates with the help of four or five nurse assistants in a third-floor room lined with boxes of surgical equipment and consumables.
Wearing surgical magnifying glasses, green scrubs and flip flops over bare feet, Thep deftly slices through tissue and zaps bleeding bloods vessels with a thin welding rod-like cauterizer between his patient's splayed legs.
The transgender woman, who has come from Australia, appears to be in a deep sleep, thanks to an infusion of sedatives such as ketamine, propofol and morphine. The operation is finished in exactly two hours. Toward the end, the groggy patient asks for the time and an update on how things are going.
Thep says she will stay overnight in the adjacent nine-bed recovery room before being discharged in the morning, necessitating a walk down three flights of concrete stairs. She will need to return for an antibiotic shot each day for a week.
No Fancy Hospital
"You cannot do it in a fancy hospital," Thep says, before listing off a half a dozen ways in which he keeps prices low -- from the non-mechanical operating table and the use of tube lights instead of a surgical lamp, to the analog wall clock bought for 500 baht ($14) 15 years ago.
For post-operative care, patients are required to regularly dilate their new vaginas so they don't shrink as they heal. Some Thai centers charge 15,000 baht for the dilation device, says Thep, who proffers a cheaper alternative: a wooden stick.
"I can give it free," he says.
It's not about cutting corners, Thep says. It's about equality.
"If you are poor, if you are rich," he says. "It's got to be equal."
--With assistance from Suttinee Yuvejwattana in Bangkok.
Before it's here, it's on the Bloomberg Terminal.
LEARN MORE