Junk Rig Bonds Return 22% as Mexico Driller Dodges Industry Woes
Offshore-drilling rival Oro Negro defaulted on Oct. 16

Oil prices have tumbled another 10% in the last two weeks
Oil-services provider Offshore Drilling Holding SA is sidestepping a default by one of its industry rivals and a deepening swoon in crude prices.
The company's $950 million of bonds due in 2020 have returned 22 percent this month as of Oct. 23, eight times the emerging-market average and the biggest advance in Mexico.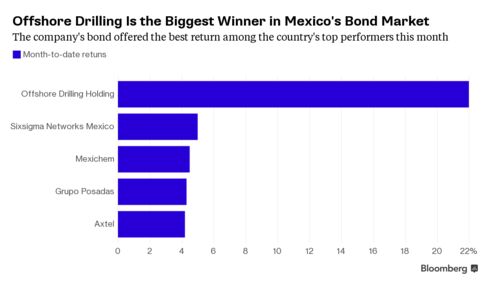 To investors like Pioneer Investments -- the largest holder of Offshore Drilling's bonds -- the company's more than 50 years of experience providing services to Mexico's state oil producer will help the driller withstand the industry's woes. And while the plunge in crude prices has led Petroleos Mexicanos to lower the day rates it pays to rent Offshore Drilling's rigs, the fees still are high enough to ensure the company will be able to pay its debt in next few years, said Pioneer's Alejandro Arevalo.
"Offshore Drilling Holdings is one of the best companies positioned to weather the volatility in the short to medium term," said Arevalo, who helps oversee 4.5 billion euros ($5 billion) of debt as an emerging-market portfolio manager in London.
Boston-based Pioneer owns 2 percent of Offshore Drilling's bonds, according to data compiled by Bloomberg.
Offshore Drilling did not reply to an e-mailed request for comment on their bonds' performance.
Yields on the Mexico City-based company's bonds have tumbled 5.4 percentage points this month, sending the price of the securities to 82.25 cents on the dollar, data compiled by Bloomberg show.
The rally is a reversal of a slump that pushed the bonds to a five-month low in August, when Fitch Ratings downgraded Offshore Drilling to three levels below investment grade because of "depressed market conditions."
West Texas Intermediate crude for December delivery fell 1.1 percent today to $44.09 a barrel as of 12:04 p.m. in New York. Oil prices have dropped 6.4 percent in the past two weeks and are down 45 percent in the past year. The Mexican peso gained 0.7 percent to 16.4829 per dollar.
On Oct. 16, fellow rig provider Oro Negro Offshore Drilling Pte. missed a coupon payment on its $175 million in notes due in December, prompting a trustee for the bondholders to call a default. The bonds due 2019 have tumbled 9 percent this month to 61 cents on the dollar.
"Not all drillers are the same," Carlos Legaspy, who owns Offshore Drilling's bonds as chief investment officer at InSight Securities, said by phone. Offshore Drilling "is a really good investment. We took advantage of the selloff to add some more, so we're sitting pretty right now."
Before it's here, it's on the Bloomberg Terminal.
LEARN MORE