Batman Ride, 400-Foot Ferris Wheel Aimed at Reviving Macau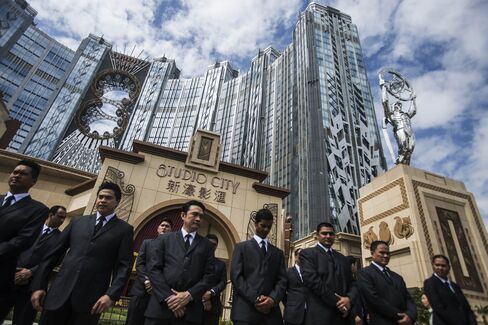 Mariah Carey to star in opening of Melco's $3.2 billion casino

Studio City promoted in movie with DiCaprio, De Niro and Pitt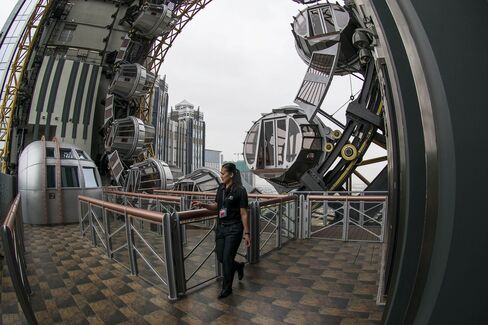 Mariah Carey, Brad Pitt
High Stakes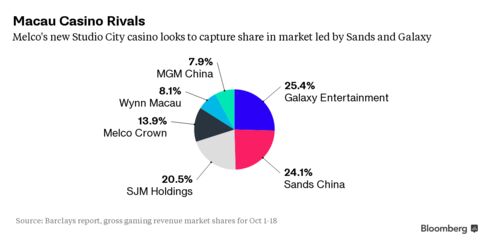 Even with China's recent slowdown, Macau operators are counting on consumer spending, which has outpaced economic growth, to spur demand for entertainment and leisure, especially family holidays.
Chinese consumers are more willing to spend extra on accommodation when they are traveling with children, a survey by Mintel Group Ltd. showed. They also look for Mandarin-speaking tour guides, public information in a familiar language, and proximity to home because of limited holiday leave.
Macau "meets most demands of Chinese tourists," said Linda Li, a Mintel travel analyst, who says the city will do much better if there are sufficient activities and attractions to keep visitors longer than three days.
Hotel Rates
Tourists stay an average of 1.4 days in Macau. Lengthier stays will depend on accommodation costs, said Aaron Fischer, head of consumer and gaming research with CLSA in Hong Kong. Nightly tariffs should ideally be HK$1,000 to HK$1,500 ($130-$195), instead of the HK$3,000 that some Macau hotels charge, he said.
Macau is experiencing one of its worst downturns, as China's slowdown and scrutiny of corruption spell the end of the "glory days" that saw an influx of VIP travelers, Fischer said.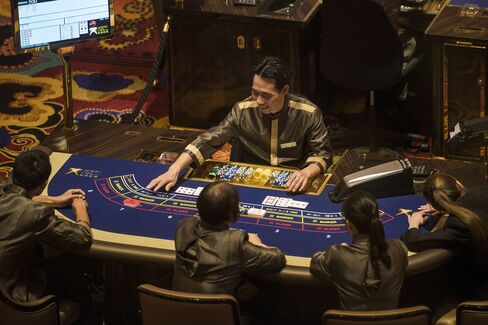 Dwindling VIPs
Before it's here, it's on the Bloomberg Terminal.
LEARN MORE