Draghi Jolt for European Bonds Has Market Hungry for What's Next
Credit Agricole sees QE being extended by at least 6 months

Italy's yield gap over bunds drops to lowest since March
Euro-area government bonds got a shot in the arm from Mario Draghi this week when he signaled more stimulus was likely by year-end. That served to make investors hungry for details of the changes that will set the tone for the region's debt market.
Hints from the European Central Bank president helped drive up German securities. Italian and Spanish bonds gained at an even faster pace, narrowing Italy's 10-year yield premium over bunds to the least since March. Draghi said officials will reexamine the current level of monetary stimulus in December and that they wanted to be "vigilant," echoing his predecessor Jean-Claude Trichet's preferred signal for an imminent policy change.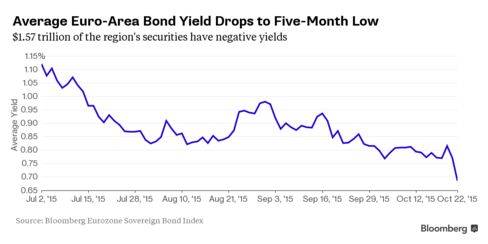 The extent to which the euro-region's $6.4 trillion in sovereign debt might gain further depends on how much more information markets get from the ECB about the form new stimulus can take, according to Orlando Green, a fixed-income analyst at Credit Agricole SA's corporate and investment-banking unit in London.
"Draghi has waved his magic wand again," Green said. Trades betting on more tightening of yield spreads "still remain intact," he said. "In terms of Italy, there is limited room but it all depends what we get from the ECB policy makers. Any stronger hints as to what way monetary policy will be reexamined."
German Yield
The yield on two-year German notes plunged to a record this week, and money markets also rallied, after Draghi said that the Governing Council had discussed cutting its deposit rate, unlike at the previous meeting. Italy's two-year note yield also turned negative on Thursday.
Credit Agricole predicts the ECB will extend quantitative easing by six months but it would be an even stronger signal if the Governing Council suggested that they would leave it open-ended until the inflation path returns to their target.
The central bank is currently engaged in a 60-billion-euro ($66 billion) monthly bond-buying program that is so far scheduled to last until September 2016. The central bank's deposit rate was cut in September 2014 to minus 0.2 percent.
The German 10-year bond yield fell four basis points, or 0.04 percentage point, to 0.51 percent this week as of the 5 p.m. London close. The previous day's seven basis-point decline turned the week into a winner for bunds. The 1 percent security due in August 2025 rose 0.345, or 3.45 euros per 1,000-euro face amount, to 104.655.
Italy-Germany Spread
The yield on similar-maturity Italian bonds dropped 11 basis points to 1.50 percent, narrowing the spread over Germany to 99 basis points, and it reached 94 basis points, the least since March.
Across the currency bloc, the value of securities with negative yields rose to $1.57 trillion, from $1.38 trillion before Draghi spoke, according to data compiled by Bloomberg. That's equivalent to about a quarter of the market.
Traders will be watching data next week to see if it supports bets that more stimulus is needed. German business confidence fell this month while consumer-price growth stagnated from a year earlier, according to economists surveyed by Bloomberg before the data are released next week. The annual inflation across the region was also forecast at zero. The ECB targets consumer-price growth at just below 2 percent.
Draghi was "effectively pre-announcing further monetary policy easing in December," Abhishek Singhania, a European interest-rate strategist at Deutsche Bank AG in London, wrote in a note. "If the ECB cuts by 10 basis points only it is very likely to keep the door open for further cuts and leave scope for the five-year sector to rally." He recommends buying five-year Italian securities.
Deutsche Bank predicted the ECB will cut the deposit rate to minus 0.30 percent at the December meeting and announce a six-month extension of its bond-buying plan.
Before it's here, it's on the Bloomberg Terminal.
LEARN MORE