Wall Street Analysts Say Valeant's Stock Collapse Is a Buying Opportunity
Wall Street stock analysts are so far not convinced by the critical report.
Shares of Valeant took quite the beating yesterday after Citron Research accused the company of an Enron-like accounting strategy. At one point, the stock fell as much as 40 percent before Valeant posted a rebuttal calling the short seller's allegations "erroneous."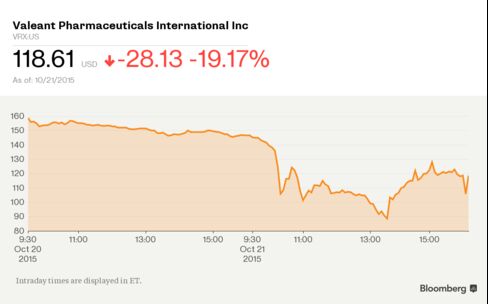 Analysts on Wall Street had some work to do following this report, and this morning we're getting updated research from a number of firms. So far it seems the majority of the Street is calling this a chance to get the stock at a discount.
UBS' Marc Goodman and Ami Fadia (Buy, Price target $285)
An unusual buying opportunity. Valeant addressed most of these issues on its conference call the other day, so we were surprised that this report generated such a reaction. That said, we understand that investors in this market environment are extra cautious and continue to have a "sell first and ask questions later" attitude. As questions are answered, as noted above, we expect the stock to recoup lost ground.
JP Morgan's Chris Schott (Overweight, Price target not given)
Valeant has disclosed that it recognizes almost all of its revenues generated through the specialty pharmacy channel when the prescription is actually filled, and that the specialty pharmacies operate on a consignment model. For reference, Valeant currently has only $15mm of inventory at gross price in the U.S. specialty pharmacy channel. In our view, this limits the ability of Valeant to "stuff the channel" by shipping excess inventory to its specialty pharmacies as this would be not be recognized as revenues.
Bank of America Merrill Lynch's Sumant S. Kulkarni, Steve Chen, and Fernando Bringas (Buy, Price target $290)
Based on VRX's current characterization of the extent of and accounting for products sold through the specialty pharmacy channel, the subject of great scrutiny, we believe VRX presents an enhanced buying opportunity at these current levels. In our view, VRX will remain volatile and will require even clearer articulation from management around the risk related to the issues facing the company for the stock to potentially begin healing. That said, we continue to like VRX's diverse business mix, sticky and durable asset base, and low product concentration risk.
Nomura's Shibani Malhotra and Austin Nelson (Buy, Price target $290)
The report primarily alleges that these specialty pharmacies were created for Valeant to book revenues for product it has not sold. While we have been unable to share our analysis with or speak with Valeant, our own diligence suggests that this is not accurate. Key reason: Valeant has stated numerous times and publicly that it only books revenues on products sold through specialty pharmacies when they have been dispensed; we would use the current weakness as a buying opportunity.
Morgan Stanley's David Risinger (Equal-weight, Price target not given)
We are Equal Weight Valeant shares, but if allegations of fraud are wrong, depressed VRX shares appear to present a buying opportunity.
Of course, there were at least a couple skeptics in the group:
Deutsche Bank's Gregg Gilbert and Greg Fraser (Hold, Price target $204)
While we acknowledge that our current target implies significant upside if the company executes, we remain cautious on the stock given uncertainties related to the US drug pricing environment, VRX's specialty pharmacy distribution model, and related government inquiries.
Bank of Montreal's Alex Arfaei (Downgraded to market perform from outperform, Price target cut to $141 from $265)
Valeant's structure may not be illegal, but we find it aggressive and questionable ... The downside from here is not limited to the specialty pharmacy business in question (we estimate that is priced in); it is dependent on the impact of the residual uncertainty on the rest of the business. We believe most VRX investors didn't know about Philidor; what else is out there that we don't know? While this question applies to every company in our coverage, the existence of a questionable, not fully disclosed business practice increases the risk of others. The stock is unquestionably cheap in our view, but for the upside to materialize, we believe investors need to become comfortable with this uncertainty.
Before it's here, it's on the Bloomberg Terminal.
LEARN MORE