Worst of Oil Slump Over as Glut Seen Shrinking, Amundi Unit Says
Market will `tighten' next year with reduction in oversupply

Return of Iranian oil post-sanctions likely to be `manageable'
The worst of the oil-price slump is behind us, according to a unit of Europe's biggest asset manager.
Brent crude, trading below $50 a barrel in London, will rise to at least $65 next year as the global surplus becomes "less acute," Stephane Soussan, a portfolio manager at Amundi Group's CPR Asset Management, said by phone. "The market will tighten," he said.
The price of Brent, a global benchmark, has dropped more than 40 percent in the past year as world oil supply swamped demand. Futures sank to a six-year low in August as OPEC countries pumped more than their target to maintain market share, while crude stockpiles in the U.S., the biggest consumer, remained more than 100 million barrels above the average.
A reduction in U.S. oil production will help curb the global oversupply to 500,000 barrels a day next year, according to Soussan, who oversees 525 million euros ($596 million) in the global resources fund at the Paris-based firm. The surplus was estimated at 1.6 million a barrels a day in the third quarter, International Energy Agency data show.
U.S. Supply
"In 2016, the supply coming from outside the Organization of Petroleum Exporting Countries should contract slightly, especially in the U.S. which has been the main source of supply increase outside OPEC over the past two to three years," Soussan said.
U.S. oil-output growth has gathered pace in the past decade as producers tapped the country's vast shale deposits. Yet tumbling crude prices have weighed on high-cost operations and cut active rigs by 60 percent from a year ago, according to Baker Hughes Inc.
The nation posted its first quarterly oil-production loss in more than four years in the three months through September, with output of 9.1 million barrels a day compared with a peak of 9.61 million on June 5, according to Department of Energy data.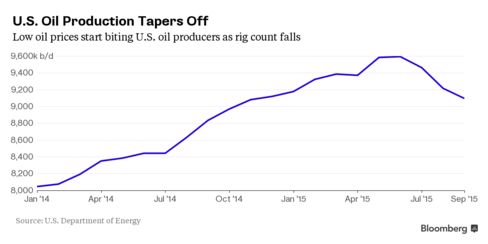 As the U.S. trims output, OPEC continues to pump above its quota and is unlikely to change strategy any time soon, Iranian Oil Minister Bijan Namdar Zanganeh said this week. Soussan also expects the group to maintain output policy when it next meets in December.
Iran itself is preparing to ramp up production once world powers remove sanctions on its economy. State-run National Iranian Oil Co. has said the country can raise exports by 500,000 barrels a day within a week of sanctions ending, and by 1 million barrels a day within six months.
"I'm dubious on 1 million because it's a very sizable amount of oil," Soussan said, estimating 500,000 barrels a day as a more likely growth figure for next year. Iran's return to the market should be "manageable," he said.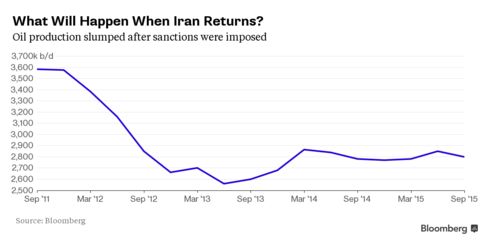 Others in the industry have taken a more bearish view. Demand growth will ease and Iranian exports may swell the surplus next year, the Paris-based IEA said last week. Vitol Group, the world's largest independent energy trader, said Tuesday that crude will struggle to surpass $60 next year with Iran's likely return, while the International Monetary Fund said Iranian output will put "downward pressure" on prices.
Soussan expects the tail-off in U.S. production to help turn the market around. The nation's output is almost back down to the level pumped last November, when OPEC switched its strategy to focus on battering competitors and reclaiming market share. Production will drop by 390,000 barrels a day next year, the Energy Information Administration estimates.
Amundi Group, owned by Credit Agricole SA and Societe Generale SA, has more than 950 billion euros under management. The fund management firm said this month it registered for an initial public offering with France's market regulator, the first step to listing.
Before it's here, it's on the Bloomberg Terminal.
LEARN MORE