U.S. Stocks Decline Amid Mixed Earnings, Valeant's Volatile Ride
Biotech shares slide as Valeant Pharmaceuticals plunges

General Motors rallies, Chipotle slumps after results
U.S. stocks declined after Valeant Pharmaceuticals International Inc. took health-care stocks on a wild ride, distracting investors from one of the busiest days for corporate earnings so far this season.
Equities whipsawed between gains and losses after a short-seller takedown on Valeant sent the shares plunging, only to then rebound after the company disputed the report and CNBC said investor William Ackman added 2 million shares to his stake in the company. Mixed earnings reports from General Motors Co. to Chipotle Mexican Grill Inc. gave few definitive signals on the health of the economy.
The Standard & Poor's 500 Index fell 0.6 percent to 2,018.94 at 4 p.m. in New York, the most in a week after earlier rising as much as 0.4 percent. The Dow Jones Industrial Average lost 48.50 points, or 0.3 percent, to 17,168.61. The Nasdaq Composite Index dropped 0.8 percent as biotechnology shares slumped for a second day. About 6.8 billion shares traded hands on U.S. exchanges, 8 percent below the three-month average.
"We were looking for biotech and health-care as a form of leadership to stabilize the market and this news certainly doesn't help," said Andrew Burkly, head of institutional portfolio strategy at Oppenheimer & Co. in New York. "That was the component we were missing on the rally and this sets that back."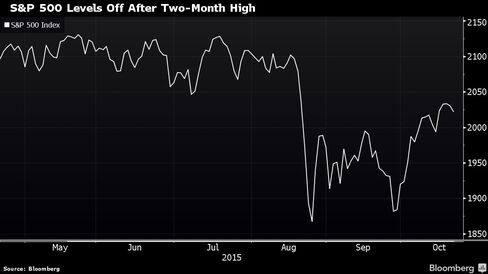 The S&P 500 was unable to make any forward progress for a second session after reaching a two-month high. Equities have been recovering from a summer selloff and the benchmark's first correction in four years, which was fed by anxiety over China's slowdown and confusion on the Federal Reserve's intentions toward interest rates. The S&P 500 is up 5.2 percent this month, rebounding from its worst quarter since 2011.
The Chicago Board Options Exchange Volatility Index rose 6 percent Wednesday to 16.70. The measure of market turbulence known as the VIX pared its monthly drop to 32 percent, on track for its steepest since July.
Investors are looking to corporate America for clues on the strength of the economy as the Fed considers raising interest rates for the first time in almost a decade. The probability of a Fed rate increase this year is about 32 percent, according to data compiled by Bloomberg. March is the first month for which traders price in at least even odds of a boost.
Earnings Season
Some 46 S&P 500 companies are due to post results on Thursday, including Caterpillar Inc., Dow Chemical Co., 3M Co. and Amazon.com Inc. Of those that have reported so far, about 47 percent have outpaced sales estimates while 74 percent have beaten earnings targets. Profits are expected to fall 6.7 percent this quarter, according to data compiled by Bloomberg.
"Earnings reports have been more good than bad so far, but the real meat of earnings will be in the next two weeks," said Michael James, managing director of equity trading at Wedbush Securities Inc. in Los Angeles. "There's not enough to draw from to make a broad conclusion yet."
Chipotle slid to a three-month low as its weaker-than-expected profit renewed concerns about escalating costs and slowing growth. Higher labor costs and marketing expenses squeezed profit at the Mexican-food chain last quarter.
Chipotle's decline dragged down other eatery stocks. The Bloomberg Limited-Service Restaurant Index fell 2.2 percent, while Jack in the Box Inc. and Papa Murphy's Holding Inc. both lost more than 4.3 percent. Consumer discretionary stocks erased earlier automaker-led gains as Chipotle weighed and Harley-Davidson Inc. sank 2.5 percent to extend yesterday's 14 percent tumble.
Health-Care Slides
Valeant slumped 19 percent, trimming an earlier 40 percent plunge, after a stock-commentary site run by a short seller accused the company of an Enron-like strategy of recording fake sales by using phony customers. Health-care stocks sank 0.9 percent, trimming most of an earlier 2.5 percent drop. The Nasdaq Biotechnology Index declined 0.5 percent after falling as much as 3.5 percent.
St. Jude Medical Inc. tumbled 8.9 percent, the most since 2012, after it reported third-quarter revenue that missed the consensus of analysts' estimates and trimmed 2015 guidance. Endo International Plc fell 13 percent, its biggest decline since 2009.
Yahoo! Inc. and EMC Corp. lost more than 5.2 percent to pace a slump among technology shares. Yahoo reported its biggest quarterly sales drop since 2009 and gave a fourth-quarter revenue forecast that missed analysts' estimates. EMC's results met analysts' reduced estimates, while its shares were hurt in part by a 19 percent drop by VMware Inc., of which EMC owns 81 percent. VMware tumbled amid a weak gauge of future revenue.
Energy and raw-materials fell more than 0.9 percent, the session's worst performers among the S&P 500's 10 major groups. Range Resources Corp. and Consol Energy Inc. decreased more than 6.5 percent as oil slid after a government report showed U.S. crude inventories grew by the most in six months. Alcoa Inc. lost 3.2 percent, and Freeport-McMoRan Inc. declined 2.4 percent before its earnings report tomorrow.
GM had its best gain since 2012 after its quarterly profit was boosted by strong light-truck sales in the U.S. and stable operations in China. The company credited strong margins in North America and only a slight decline in China, where auto sales have struggled.
Boeing Co. climbed 1.7 percent to the highest since Aug. 19. The company reassured investors that the aerospace market remains robust after raising its full-year profit forecast amid rising jetliner deliveries and a slowdown in 787 Dreamliner costs.
The two acquisitions in the semiconductor industry helped the Philadelphia Stock Exchange Semiconductor Index eke out a gain to its highest since July. KLA-Tencor Corp. rose 19 percent after Lam Research Corp said it would acquire the company in a $10.6 billion cash-and-stock deal. SanDisk Corp. added 2.1 percent and advanced for a sixth day after Western Digital Corp. agreed to pay about $19 billion for the storage maker.
The pacts added to what was already a record year for chip deals -- a total of $76 billion before Wednesday.
Before it's here, it's on the Bloomberg Terminal.
LEARN MORE