EU Calls for Talks as Migrant Crisis Deepens in Balkans
Meeting prompted by request from Germany's Merkel, Bild Says

Slovenia seeks aid after Hungarian closure reroutes migrants
European Commission President Jean-Claude Juncker called for emergency talks and Slovenia gave its army a green light to help control a surge in migrants as Europe's refugee crisis deepened before the onset of winter.
German Chancellor Angela Merkel will join government leaders from eight other countries from central and southeastern Europe at the meeting scheduled for Sunday in Brussels, Juncker said. Earlier, Slovene lawmakers gave the army additional powers to help police man border posts overwhelmed with migrants, according to the parliament's website. The Adriatic nation of 2 million people will also ask the European Union for assistance.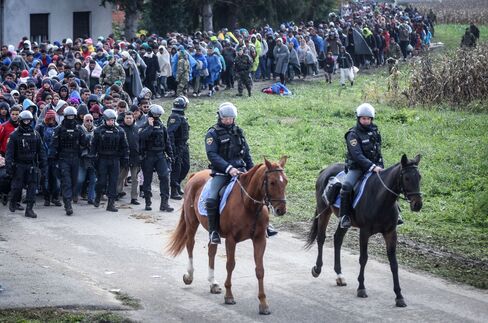 "First and foremost is the safety of our citizens, and we have to ensure that with controlled migration," Slovenian police Director General Marjan Fank said in a statement. It would be an illusion to expect that Slovenia "as the smallest country on this route, can tackle migrant flows on its own without the cooperation of neighboring countries. There is obviously no common approach to this crisis."
Merkel's government has clashed with eastern European countries over how to tackle the biggest refugee crisis since World War II. She and Juncker asked for the emergency meeting, according to the Bild newspaper. While the German leader has pledged to grant asylum to genuine refugees, Hungary closed its borders with Serbia and, on Saturday, fellow EU member Croatia. That has created bottlenecks on borders and inflamed tensions between former Yugoslav partners.
Balkan Bickering
"In view of the unfolding emergency in the countries along the Western Balkans migratory route, there is a need for much greater cooperation, more extensive consultation and immediate operational action," the European Commission said in a statement. The leaders of Austria, Hungary, Greece, Bulgaria, Croatia, the Republic of Macedonia, Romania, Serbia and Slovenia have been asked to attend the meeting Sunday, Juncker said.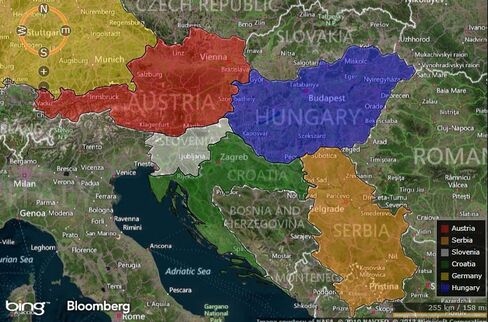 The situation has been escalating since late summer, when the flow of migrants shifted from northern Africa through southern Europe to a path leading from Turkey to Greece and through the Balkans. The United Nations high commissioner for refugees, who's also been invited to the talks in Brussels, said on Tuesday that more than half a million refugees had arrived in Greece this year.
While Germany has led the push to redistribute the migrants -- it alone sees itself facing 800,000 or more this year -- Balkan countries a fraction of its size have complained that their calls for aid have gone unanswered. They've resorted to unilateral decisions that have included shutting transport links or, alternatively, shuttling migrants through to neighboring countries.
Merkel renewed her call for a fair distribution across the 28-member EU on Wednesday and said the wave of refugees seeking shelter from war "is not a mass group or anonymous numbers, but rather individual people" on whom Europe can't turn its back. She defended a trip to Istanbul this week to seek an accord with the Turkish government to control the flow of refugees.
Tightening Bottleneck
In Serbia, which unlike former Yugoslav partners Croatia and Slovenia isn't an EU member, Prime Minister Aleksandar Vucic has said his country won't build barriers "under any circumstances." Serbia has registered more than 103,000 migrants crossing its territory this month, with 11,000 entering from Macedonia since the weekend, according to the UNHCR. That's creating a choke-point at the border with Croatia, where authorities are trying to limit the number of people entering.
Serbia will seek additional budget support from the EU to deal with the refugees as it can't "bear the burden of the crisis," Interior Minister Nebojsa Stefanovic said, according to the Tanjug news service.
"About 3,500 spent the night in the mud at the Serb-Croat border," of whom 450 were taken by buses at 4 a.m. to a reception center inside Croatia, UNHCR press officer Mirjana Milenkovski said by phone. "Others couldn't wait any longer so they just moved on foot across the fields."
In neighboring Slovenia, Prime Minister Miro Cerar complained to Germany's Die Welt newspaper on Wednesday that Croatian authorities hadn't reacted to requests for cooperation. Since Friday, more than 25,000 migrants had crossed into the Balkan state, according to police. Officials there have said the country can cope with about 2,500 migrants a day, while Croatia wants to send about 5,000, or half of its own daily intake.
Croatia said the bottleneck was happening because Slovenia is taking too long to register migrants who have originally entered the EU via Greece. Under the bloc's rules, new arrivals must be documented at the point of entry. Some EU states have complained that Greece hasn't been registering migrants, putting the burden on other countries.
"Our system of registration is much quicker and Slovenia should do the same," Croat Interior Minister Ranko Ostojic said in a statement posted on the government's website. "These people don't want to stay in Slovenia or Croatia, they are in transit, so the process should be much quicker."
Before it's here, it's on the Bloomberg Terminal.
LEARN MORE