Sweden's `Distressing' Housing Market Triggers Bank Warnings
SEB reassures investors it's the least exposed to real estate

SBAB CEO says soaring house prices pose risks for customers
The chief executive officer of Sweden's state mortgage lender says developments in the country's housing market are now "highly distressing" as prices continue to rise at a pace he warns is unsustainable.
"Soaring housing prices increase the risk level for our customers, for us as a company and for the economy and society at large," Klas Danielsson, SBAB CEO, said in the lender's third-quarter report on Thursday. "This trend is not sustainable in the long term."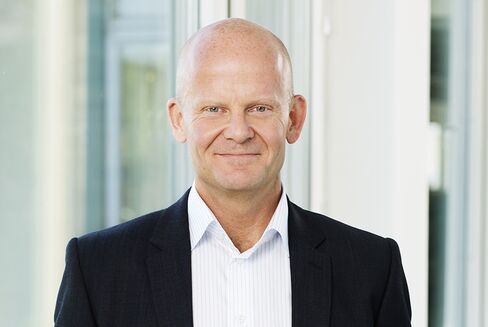 He's the latest bank executive in Scandinavia's largest economy to sound the alarm as negative interest rates drive property prices to levels that exceed records set before the financial crisis. Annika Falkengren, the CEO of SEB AB, reassured investors on Wednesday that her bank is the least exposed to Sweden's overheated property market. Michael Wolf, the CEO of Swedbank, also struck a cautious note this week, warning that negative central bank rates risk exacerbating imbalances amid an "acute housing shortage."
Borrowing in Sweden has risen at twice the rate of economic growth since 2009. Over the same period, housing prices have jumped almost 50 percent. Part of the problem is a lack of supply, but with the Riksbank resorting to negative interest rates to rekindle inflation, record-low borrowing costs have also done their share to stoke demand.
SEB only offers loans to customers who will stay solvent if rates rise as high as 7 percent. The central bank's benchmark has been minus 0.35 percent since July. The bank's exposure to residential mortgages was 27 percent in 2014, compared with as much as 41 percent at other banks.
Commercial Deals
SEB is equally wary of commercial real estate and Falkengren says her bank has limited growth ambitions in that market.
"We have refrained from doing a lot of" deals in commercial property, she said in an interview after the press conference. SEB's focus will stay on corporate finance, she said.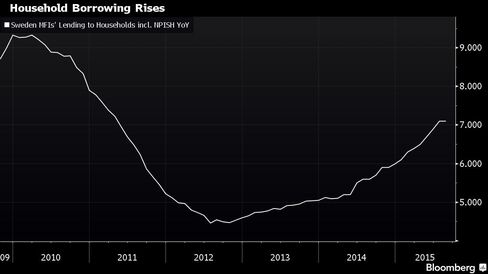 Danielsson at SBAB said that "in some areas of Sweden, housing prices are increasing at a rate that in all likelihood, extends far beyond any long-term realism. "
SBAB has tightened its lending standards in response as it tries to protect the bank from potential losses stemming from a housing market correction. These include limits on debt-to-income ratios and mandatory amortization.
"If the housing price trend does not abate, we cannot exclude additional measures," Danielsson said.
Earlier this month, Denmark's financial regulator warned Danske Bank to consider adjusting its strategy in Sweden amid signs its property market is overheated.
Sweden's central bank said on Wednesday it wants to reduce the ability of lenders to use mortgage bonds as collateral when they borrow from the bank, a move it said was aimed at reducing "credit risk."
Before it's here, it's on the Bloomberg Terminal.
LEARN MORE