Junk-Bond Buyers Said to Seek Cheat Sheets in Sale Documents
Group to ask lawyers to summarize key covenants for them

Slumping high-yield debt demand may give buyers more sway
High-yield bond investors are fed up with poring through hundreds of pages of sale documents looking for potential problems that could come back to bite them.
A group of European junk-bond buyers is planning to ask issuers' lawyers to summarize and explain key covenants in the first few pages of sale documents, according to two people familiar with the information.The Association for Financial Markets in Europe, or AFME, is coordinating the effort, said the people, who asked not to be identified because the discussions are private.
Junk-bond investors have also called for closely held issuers to make financial information more easily available as slumping demand for risky debt gives them greater influence over high-yield borrowers. The disclosure of bond terms was also discussed by an investor panel at AFME's Annual European High-Yield Conference in London on Wednesday.
"Investors are focusing on covenants more than ever before," Sabrina Fox, the session host and the head of European research at Covenant Review, said before the event. "The primary market is weak. Investors are in a better position to resist aggressive terms, because otherwise the deal won't get done."
Gary Simmons, director of AFME's high-yield division, declined to comment on the plans.
'Simple Language'
Some investors have suggested summarizing "material" covenant terms in "simple language" at the start of bond documents, Fox said. These could include terms that cover how much debt a company can incur, how much cash it can spend and how bondholders will be protected in the event of a takeover, she said.
Lawyers may resist such changes because they would have to determine what are "the most material parts" of a bond sale, Jill Concannon, a partner at law firm White & Case in London, said on the AFME conference panel. This could be challenging as seemingly minor points could become issues in a few years' time, she said.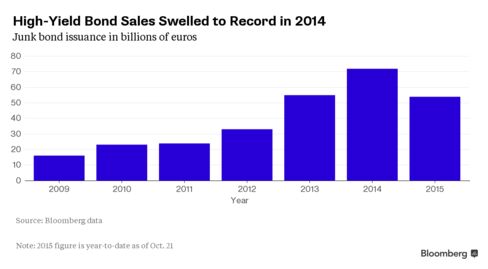 Issuers watered down covenants last year as they took advantage of record demand for high-yield bonds, according to DebtXplained. Portability provisions, which can erase investors' redemption rights when an issuer is acquired, were included in about 40 percent of deals analyzed by the research firm last year, up from 18 percent in 2012.
Usage has dropped to 26 percent this year as demand for deals declined. Bond sales swelled to a record 72 billion euros in 2014 and total 54 billion euros this year, according to data compiled by Bloomberg.
Bond buyers have had limited success in getting more safeguards for investments. An open letter published by more than 20 asset managers including AllianceBernstein LP and Schroders Plc in February hasn't led to any improvements, according to all of the 25 major high-yield fund managers surveyed by DebtXplained last week.
"It certainly appears that new, looser standards are becoming the norm, despite the public concern of investors," said Stephen Mostyn-Williams, founder and chairman of DebtXplained.
Before it's here, it's on the Bloomberg Terminal.
LEARN MORE