HSBC: These Are the Economies That Could Run Into Trouble
Malaysia, Indonesia, Sweden, Norway, and ... New Zealand?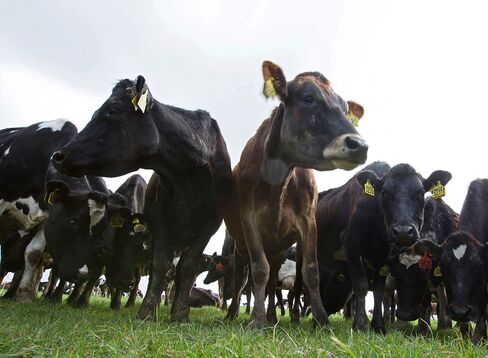 "Forecasters spend much of their time finessing central projections. But sometimes by focusing on the most likely outlook for growth we lose track of vulnerabilities that are accumulating," HSBC Economist James Pomeroy writes in the latest edition of the bank's "Macro Health Check." And while global markets may have stabilized since the volatile days of summer, there seems to be no shortage of potential vulnerabilities worth keeping an eye on.
Here are the major trends Pomeroy is watching:
Weakness in Asia: Lower commodity prices as well as capital flight is hurting a number of Asian economies, not to mention lowering their growth prospects. In particular, HSBC says it's newly concerned about Malaysia and Indonesia thanks to their proximity to China - both geographically and in terms of trade. As Pomeroy puts it: "The downturn in Chinese data has hit sentiment. Currencies have weakened and borrowing costs have risen, putting the sustainability of the corporate sector at risk."
Bubbles in developed economies: Asset prices that are historically high as well as household debt levels well above the norm is concerning, according to Pomeroy. He notes that in Sweden and Norway, high levels of household debt and rising house prices are combining with central banks that have already cut interest rates to record lows. "This leaves them vulnerable to financial stability risks that could leave the economies exposed to any downturn or, at some later stage, a rise in rates," he says.
Commodities continue to struggle: Energy is still a huge topic for the world and emerging markets in particular, with Saudi Arabia and the United Arab Emirates on track to see big hits to their economies, the HSBC economist noted. There are also worries over the macroeconomic backdrops in countries like Brazil, Russia, Colombia, and Chile, where 50 percent of exports are commodities -related, Pomeroy adds.
Based on these concerns, HSBC presents a "diagnosis" showing how a number of economies are and are not seeing impacts from these and other macro factors. New entries on the bank's list of concerns include the previously-mentioned Malaysia, Indonesia, Sweden and Norway, while New Zealand also makes the cut thanks to its links to China, rising asset prices and tumbling milk prices. "Although low risk, New Zealand may be one to watch," Pomeroy says.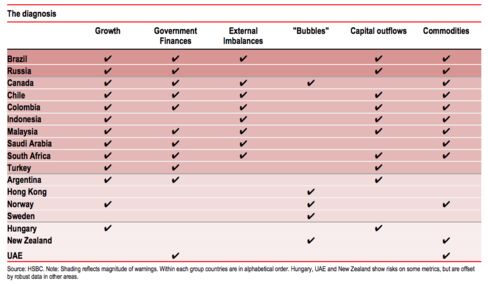 Two big countries that were worthy of worries in the past, but have since stabilized in HSBC's view are Japan and the Philippines. According to the firm's forecast, growth in Japan may not be seeing a huge pickup in the near future, but there's little reason to believe there will be a further downturn. Regarding the Philippines, HSBC says that this is one of the only emerging markets that is fairly unexposed to slower Chinese growth and lower commodity prices -- two characteristics that differentiate it from a whole lot of other EM nations.
Before it's here, it's on the Bloomberg Terminal.
LEARN MORE