Draghi May Lack What It Takes to Do Whatever It Takes on Prices
HSBC says ECB may only be able to extend rather than boost QE

Euro gain suggests investors sceptical of ECB's firepower
Mario Draghi is under pressure from financial markets to match his words with action.
QuickTake Europe's QE Quandary
Having once saved the euro with his 2012 pledge to do "whatever it takes," the European Central Bank president is now signaling a willingness to boost his 1.1 trillion-euro ($1.3 trillion) quantitative-easing program in response to a negative inflation rate.
The problem is that the ECB risks running into political and technical limits on just what bonds it can purchase. Those constraints mean investors are already starting to question just how much more the euro area's policy makers can do to revive inflation.
The ECB Governing Council starts a two-day monetary policy meeting in Malta on Wednesday and Draghi will hold a press conference on Thursday.
ECB Credibility
Among the unhelpful signs that doubts about the central bank's credibility are beginning to fester are the euro's 8 percent gain against the dollar since the middle of March and investors' expectations for weak inflation over the next five years.
Both trades complicate Draghi's efforts to return inflation to the ECB's target of just below 2 percent and could even raise questions about whether he can keep curbing bond yields in the peripheral economies, according to Karen Ward, chief European economist at HSBC Holdings Plc.
"I don't know if he has what it takes," Ward told a conference of clients last week in London. "My problem isn't the ECB's willingness to deliver inflation, my problem is with the ECB's ability."
While Ward predicts the ECB will in December extend its 60 billion euros of monthly bond-buying beyond September 2016, she bases that on what the central bank can rather than what it should do. She reckons the ECB currently lacks the scope to beef up its buying to 90 billion euros, saying such a program would run out of securities to buy by the middle of 2017.
German Skepticism
The biggest obstacle to doing more may again be Germany, home to some of the policy makers most skeptical of quantitative easing and unlikely to want to relax the program's current limits.
For one thing, the ECB's purchases are currently determined by each member state's capital stake in the central bank. That's in proportion to economic size, meaning German securities account for about a quarter of the total. The problem is that German bunds are set to become even scarcer given the government's budget surplus.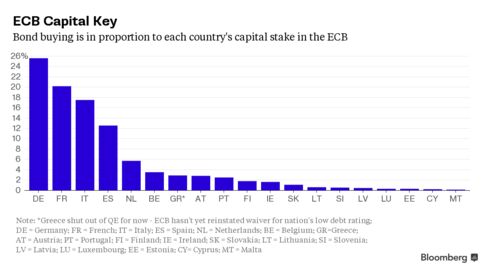 The ECB could deviate from the capital key, though that would probably mean a difficult debate over whether buying more of once country's debt than another, without conditions such as a bailout program, would breach the region's law that bans monetary financing.
While the ECB bought itself some wiggle room last month by raising the cap on some of the bonds it can buy to 33 percent per security from 25 percent, it left out those with collective action clauses, which make a debt exchange that is accepted by a qualified majority of bond holders binding to all. Every euro-area government bond sold since the start of 2013 must have them.
The ECB also is prevented from buying securities yielding less than the ECB's deposit rate, which now stands at minus 0.2 percent. About one third of German bonds alone are ineligible, according to Bloomberg data.
Draghi could still expand the purchases into bank bonds and corporate debt. The problems of doing so include exposing the ECB's balance sheet to greater risk, complicating its role as a bank regulator and creating political headaches when choosing which company debt to buy, HSBC says.
"These constraints make us question the ECB's capacity to create the appropriate monetary backdrop," said Ward. "If credibility is called into question, the ECB faces an ever greater uphill struggle in its bid to prevent deflation."
Before it's here, it's on the Bloomberg Terminal.
LEARN MORE