Railcar Orders' Biggest Drop Since 1980s Hints at U.S. Slump
North American orders plummet 83 percent to 7,374 units

Wells Fargo says `healthy' level is 10,000-15,000 a quarter
North American railcar orders plummeted the most in at least 27 years as railroads shipped less oil and sand used for drilling, adding to concern over a U.S. industrial production slowdown.
Third-quarter orders for new freight cars plunged 83 percent from a year earlier to 7,374, according to the Railway Supply Institute. That's the biggest decline since at least 1988 and the lowest number for a quarter since 2010. A "healthy" three-month number is 10,000 to 15,000, Allison Poliniak-Cusic, a Wells Fargo & Co. analyst, said in a note Tuesday.
Railcar makers including Trinity Industries Inc. and Greenbrier Cos. could be hurt by "a moderating U.S. industrial environment that could restrain freight traffic and new car demand," Poliniak-Cusic said. The companies may also be affected by "ongoing tank car regulation issues, and potential pressure on lease rates and subsequent new railcar prices," she said.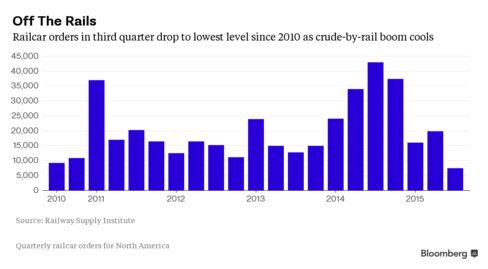 Weak railcar orders contribute evidence of a possible slowdown as oil industry spending has faltered along with crude prices and production of metals and other export goods suffers from a strong dollar. U.S. industrial output declined in both August and September.
U.S. rail carloads dropped 1.6 percent in the quarter on lower demand for coal, crude oil and metals. Coal, which makes up 19 percent of U.S. rail traffic, has been hurt as utilities switch to lower-priced and cleaner-burning natural gas.
Railcar makers still have plenty of work with a backlog of 122,591 units. That's down from a record of 142,837 at the end of last year, about five times as many as at the end of 2010 before the crude-by-rail boom began.
"The rail suppliers continue to have nice visibility across most car types, which could drive near-term earnings outperformance," Poliniak-Cusic said.
Before it's here, it's on the Bloomberg Terminal.
LEARN MORE