Posco, South Korea's biggest steelmaker, reported the largest quarterly loss in at least five years amid losses on foreign exchange and mining assets, a lawsuit settlement and as a deluge of Chinese exports pushed down world prices.
The net loss, excluding minority interests, was 534.2 billion won ($474 million) in the three months ended September, from a 237.8 billion won profit a year earlier, the Pohang-based company said Tuesday. That compares with an expected loss of 156 billion won, according to the average of 13 analyst estimates compiled by Bloomberg.
World steel producers are struggling with a flood of Chinese exports as the country's demand contracts for the first time in a generation. Shipments climbed 16 percent to a record 11.25 million metric tons in September and soared 27 percent in the first nine months. The company, whose shares fell to the lowest in almost 11 years in October, has announced a turnround plan to quit non-core operations and focus on its mainstay steel.
"In addition to plunging global commodity prices, Posco was also exposed to several one-time factors including a weakening Korean currency and the big settlement payment," Baek Jae Seung, a Seoul-based analyst at Samsung Securities Co., said by phone. "The environment was particularly unfavorable in the third quarter."
The loss mainly reflected 380 billion won of foreign-exchange losses from dollar-denominated debt, a 263 billion won value loss in mining assets, and a lawsuit settlement, the company said. Posco paid 30 billion yen ($250 million) to Nippon Steel & Sumitomo Metal Corp. to settle cases over alleged patent infringement and illicit technology acquisition, the Tokyo-based company said last month.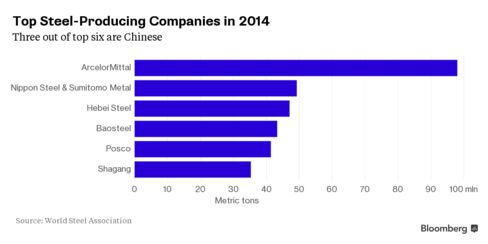 Restructuring
Operating profit, or sales minus the costs of goods sold and administrative expenses, dropped to 651.9 billion won from 878.7 billion won a year earlier. That compares with the 710.7 billion won average of analyst estimates. Sales fell to 14 trillion won from 16.3 trillion won and compared with 14.9 trillion won estimated by analysts. The company said it expects a 300 billion won net loss in 2015 including minority interests.
Global steel demand will contract by 1.7 percent this year, the World Steel Association said this month, reversing an April forecast for a 0.5 percent increase. Consumption in China will decline 3.5 percent in 2015 and slide a further 2 percent next year, it said. With production slowing less than demand, mills are churning the surplus onto global markets, pushing down prices and spurring trade tensions from Asia to the U.S..
China's steel exports climbed to 83.1 million tons this year through September, approaching the 98.1 million tons made in 2014 by ArcelorMittal, the biggest producer, World Steel Association data show. Prices of reinforcement bar in China have fallen 29 percent in the past year and are near the lowest level since at least 2003.
Posco said in July it will lower the number of local units to 22 from 42 by 2017, while reducing overseas businesses to 117 from 167. The company said on Tuesday that it will complete the restructuring of 19 affiliates by the end of the year. The steelmaker, which has operations from Argentina to Mongolia, earned almost half its revenue from the metal in 2014, with 33 percent from trading and 12 percent from construction, exchange filings show. The shares have slumped 43 percent in the past year as the benchmark Kospi index rose 5.7 percent.
The company was the world's fifth-biggest producer in 2014 with output of 41.4 million tons, according to the World Steel Association. That compares with 49.3 million tons for Nippon Steel and 98.1 million tons for ArcelorMittal. The earnings announcement came after the market shut.
Before it's here, it's on the Bloomberg Terminal.
LEARN MORE