Getting into fast-food chains may mean growth for Monster

Monster stock jumps most in eight months on report of test
McDonald's Corp. is selling Monster Beverage Corp. energy drinks in about 20 of its U.S. restaurants, potentially opening up a new market for the high-caffeine beverages.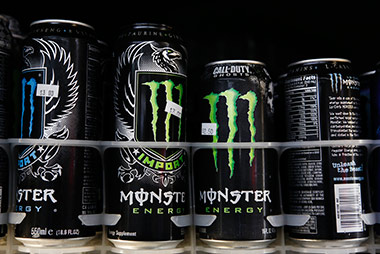 "We're always gathering feedback from customers on the food and beverages they'd like to be served at McDonald's, and this is another example," Lisa McComb, a spokeswoman for the fast-food chain, said in an e-mail. Locations in Michigan, Ohio, Georgia, Florida and Illinois are testing the drinks, she said.
Monster shares rose the most in almost eight months on Tuesday, fueled by speculation that the test could open up a new sales channel for its beverages. Getting the energy drinks into quick-service restaurants like McDonald's, which has 14,350 U.S. locations, could add as much as $1.5 billion in revenue for Monster in the U.S. alone, said Robert Ottenstein, an Evercore ISI analyst in New York. Ottenstein, who reported on the Monster test in a note Tuesday morning, said Oak Brook, Illinois-based McDonald's has seen "positive results."
Monster, which declined to comment on the report, jumped 5.2 percent to $139.61 at the close in New York, the biggest gain since Feb. 27. The shares are now up 29 percent this year.
Last year, Monster, based in Corona, California, forged a pact with Coca-Cola Co. that transferred all of its U.S. and Canada distribution to the soda giant. Coca-Cola also agreed to swap some brands and buy a 17 percent stake in Monster for about $2.15 billion.
McDonald's has been trying to turn around its struggling U.S. business and named Steve Easterbrook to the chief executive officer job earlier this year. The chain is betting that new fare including a buttermilk chicken sandwich and all-day breakfast will help bring back diners, especially younger ones, who are defaulting to fast-casual rivals.
Monster sells low-carb, chocolate shake and coffee-based energy drinks. The company also sells beverages made with tea and lemonade.
At McDonald's, Monster's beverages are typically sold as part of a value meal, with customers paying about $1.50 more to get the Monster drink, Ottenstein said.
The move is "generating incremental revenue and traffic for stores, with some
customers coming in just to purchase Monster," he said.
Before it's here, it's on the Bloomberg Terminal.
LEARN MORE