The Boom Is Back in China Stocks, Depending Where You Look
Traders boost Shenzhen margin debt for seven straight days

The ChiNext Composite Index trades at 90 times profit
The boom is back, at least for one part of China's stock market.
Investors traded 5 billion shares on the ChiNext Composite Index on Oct. 16, more than at any point during this year's rally. The Shenzhen gauge, dominated by small technology companies, is up 34 percent from its Sept. 15 low. Traders have borrowed extra debt to buy the city's stocks for seven days straight.
The resurgence in appetite for China's smallest, most volatile and most expensive equities contrasts with an almost-dead futures market and a more muted rebound in Shanghai, where volume remains less than half its peak. The world's second-biggest economy expanded last quarter at the slowest pace since 2009, according to figures published on Monday.
"With macro indicators not looking great, investors are speculating that the government will roll out stimulus to help technology companies," said Steve Wang, chief China economist at Reorient Financial Markets Ltd. in Hong Kong. "They seem to believe it's easier to flip small stocks for quick gains."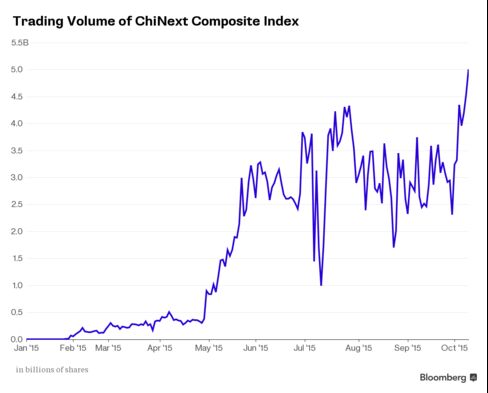 The ChiNext, which plunged as much as 54 percent from its June peak through mid-September, rose 1 percent at 9:46 a.m. on Tuesday. The gauge rebounded in the last few weeks as unprecedented government measures to stabilize the market began to take effect and declines in margin trading slowed.
Traders increased holdings of Shenzhen shares purchased with borrowed money for a seventh day on Friday, the longest streak in two months, as the outstanding balance climbed to 367.3 billion yuan ($58 billion), according to data compiled by Bloomberg. It's still down 53 percent since June.
Technology Boost
President Xi Jinping's government is boosting spending in the technology industry as it seeks ways to offset a faltering industrial sector. The pace of growth in services quickened to 8.4 percent in the first nine months of the year, while so-called secondary industry -- which includes manufacturing -- weakened to a 6 percent expansion.
In March, policy makers outlined an "Internet Plus" program to link web companies with manufacturers. Authorities also plan to give foreign investors access to Shenzhen's stock market, the hub for technology firms, through an exchange link with Hong Kong.
Leshi Internet Information & Technology Corp., the biggest stock in the ChiNext, has jumped 59 percent from its August low, and is up 230 percent this year. The Internet video provider is set to invest about $700 million in car-hailing service provider Yongche.com to gain a controlling stake, Sina.com reported Monday.
Expensive Valuations
The surge in ChiNext Composite volume has outpaced an increase in turnover, suggesting investors are favoring lower-priced securities. The value of shares traded on the measure on Oct. 16 was 123.5 billion yuan, about 19 percent below a June 3 peak.
The ChiNext Composite trades at 90 times profit, more than five times the valuation multiple for the Shanghai Composite Index, data compiled by Bloomberg show. The large-cap index has rebounded 16 percent since its August low.
For Rabobank Group's Michael Every, the divergence is a reminder of the power of China's 90 million individual investors, who favor momentum over fundamentals.
"It's greed and short-term memory loss," said Every, Hong Kong-based head of financial markets research at Rabobank. "The fundamentals stink, and they always win out in the end. Equities are still over-priced everywhere."
Before it's here, it's on the Bloomberg Terminal.
LEARN MORE