Saudi Arabia Said to Delay Contractor Payments as Oil Slumps
Government said not to pay some bills for more than 6 months

Country also said to seek to renegotiate contractors' pricing
Saudi Arabia is delaying payments to government contractors as the slump in oil prices pushes the country into a deficit for the first time since 2009, according to three people with knowledge of the matter.
Companies working on infrastructure projects have been waiting for six months or more for payments as the government seeks to preserve cash, the people said, asking not to be identified because the information is private. Delays have increased this year and the government has also been seeking to cut prices on contracts, the people said.
Saudi Arabia is responding to the decline in crude, which accounts for about 80 percent of revenue, by tapping foreign reserves, cutting spending, delaying projects and selling bonds. Net foreign assets fell by about $82 billion at the end of August after reaching an all-time high last year. The country has raised 55 billion riyals ($15 billion) from debt issuance this year.
"It's hard to hold back from boosting spending when oil is on the rise, but very hard to cut when oil prices fall," Simon Williams, chief economist for central and eastern Europe, the Middle East and North Africa at HSBC Holdings Plc, said in e-mailed comments. "Cuts are coming -- the budget deficit is too large to ignore and pretend it's business as usual."
Payment delays could slow the completion of projects under construction, including the $22 billion Riyadh metro, and curb the expansion needed to create jobs for a rising population. In the past, government spending has been a catalyst for growth. For example, when authorities announced $130 billion in social spending in 2011, the economy expanded 10 percent. This year, growth will probably be about 3 percent, according to data compiled by Bloomberg.
A spokesman for the finance ministry declined to comment.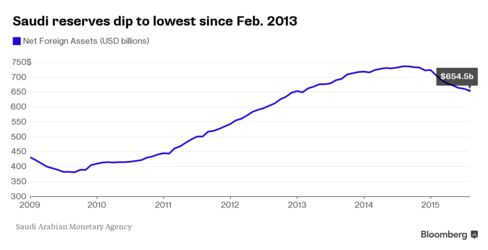 The lower price of crude -- it's fallen by about half in the past 12 months -- coupled with the kingdom's spending plans, will leave Saudi Arabia with a budget deficit exceeding 400 billion riyals this year, according to the International Monetary Fund. The aggregate deficit for 2015 to 2017 is likely to exceed $300 billion, according to a report by HSBC. The government has ordered a series of cost-cutting measures, including a freeze on new construction contracts and bans on buying new vehicles or furniture, two people with knowledge of the matter told Bloomberg earlier this month.
"We have already seen a pick-up in loan growth at some of the Saudi banks in Q2 as contractors borrow to fund their cash flows as a result of a slowdown in payments," Aqib Mehboob, a senior analyst at Saudi Fransi Capital, said by phone from Riyadh Monday.
Still, Saudi Arabia's public debt is among the world's lowest, with a gross debt-to-GDP ratio of less than 2 percent in 2014. Saudi Arabia will probably sell about 120 billion riyals of debt in 2016, compared to 135 billion riyals this year, according to a research note by Saudi Fransi Capital. Real estate stocks have also outperformed the Tadawul All Share Index. The Tadawul All Share Real Estate Development Industries Index advanced 6.5 percent in 2015 through Monday, compared with a 6.8 percent decline in the benchmark stock gauge.
Saudi Arabia, the world's largest oil exporter, has led the Organization of Petroleum Exporting Countries in boosting production to defend market share, abandoning its previous role of cutting output to boost prices. The country is now storing record amounts of crude amid a decline in shipments. Exports dropped to 7 million barrels a day in August from 7.28 million in July, while commercial crude stockpiles rose to 326.6 million barrels, the highest since at least 2002, according to data posted on the website of the Riyadh-based Joint Organisations Data Initiative.
Approximately 140 billion riyals of construction contracts were awarded in Saudi Arabia in the first half, a 12.4 percent increase compared with the first six months of 2014, according to a report by Jeddah-based National Commercial Bank.
International contractors working on infrastructure projects in the kingdom include Bechtel Group Inc., Fomento de Construcciones y Contratas, Ansaldo STS SpA and Drake & Scull International PJSC.
Before it's here, it's on the Bloomberg Terminal.
LEARN MORE