Pay-TV Losing 300,000 Users Is Good News Amid Cord-Cutting
Heavy losses expected in Q3 in U.S. still better than Q2

Americans increasingly opt for cheaper, online video services
How bad have things been for the pay-television industry lately? An estimated 300,000 Americans dropped TV service last quarter, and analysts are calling it good news.
Predictions for subscribers who canceled their video packages -- from cable, phone and satellite providers including Comcast Corp. and Dish Network Corp. -- range from about 280,000 to 360,000, based on analysts' estimates compiled by Bloomberg. That's about half as many as in the second quarter, which at more than 600,000 set an industry record. The losses underscored investors' fears that cord-cutting was fraying traditional TV's business model, contributing to a massive sell-off in media stocks in August.
"While the quarter may not be as strong as the third quarters of 2013 or 2014, it will nonetheless show an improvement," Evercore ISI analyst Vijay Jayant wrote in a note to clients this month.
The record number over the summer was "not a cord-cutting inflection point," Jayant said, and was likely due to a series of industry mergers that distracted pay-TV providers from offering promotions to attract more customers. The second quarter is also seasonally the most challenging because college students cancel subscriptions at the end of their school year.
For years, the number of consumers paying for hundreds of channels has been a key indicator of the health of the TV industry. Subscriber losses not only hurt distributors, but also threaten programmers like Walt Disney Co. and Time Warner Inc. that rely on subscriber fees and advertising revenue based on ratings, which have declined this year. The continued exodus highlights the challenges the entire sector faces as more consumers opt for cheaper video entertainment from Netflix Inc., Amazon.com Inc. or Dish's own live streaming service, Sling TV.
"The good news is that Q3 sounds better, but we are still looking at heavier losses relative to prior year," Wells Fargo analyst Marci Ryvicker said in a note to clients.
In the third quarter of last year, 189,000 TV customers canceled service, according to the research firm SNL Kagan.
Investors will start getting a clearer picture of the state of the pay-TV industry over the next two weeks when companies report third-quarter results. The video services of phone companies haven't declined as fast as those of cable companies, and in some quarters, they showed gains. Verizon Communications Inc. and AT&T Inc., which post earnings Tuesday and Thursday, are predicted to have added subscribers for their TV services last quarter, although fewer than a year earlier.
The cable companies will start reporting next week, led by Comcast, the largest, which may have lost 71,000 TV customers, based on the average of three analysts' estimates compiled by Bloomberg. The cable industry as a whole may have lost 340,000 video customers, which is an improvement from 470,000 a year earlier, according to Ryvicker.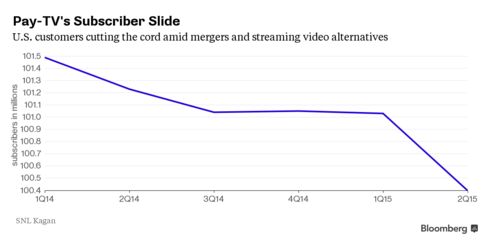 Last week, Netflix reported it had signed up 880,000 new domestic subscribers in the last quarter, and now has 43.2 million customers in the U.S. Some media companies have started re-thinking selling old seasons of their hit shows to Netflix, which has grown in popularity and taken viewers away from regular TV watching.
"We can't deny the fact that there are fewer homes signing up for pay-TV," Ryvicker said.
Subscribers are dropping pay-TV packages that cost an average $87 a month in favor of online services like Hulu priced at under $10. Comcast, Dish, Verizon's Fios TV and other traditional pay-TV distributors are trying to hang on to customers by offering discounted packages with fewer channels, so-called "skinny bundles."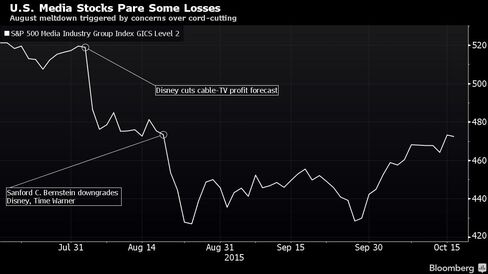 While tens of thousands of people cancel their cable TV packages each quarter, there are still about 100 million people who haven't done so yet. And the growing number of people signing up for high-speed Internet service to stream shows online have helped cable and telecom companies offset the loss of video customers.
In a sign of the times, cable leader Comcast now has more Internet customers than video subscribers.
(An earlier version corrected the total of subscribers in first chart and next-to-last paragraph.)
Before it's here, it's on the Bloomberg Terminal.
LEARN MORE