Kazakh President Nazarbayev Warns That 'Real Crisis' Is Coming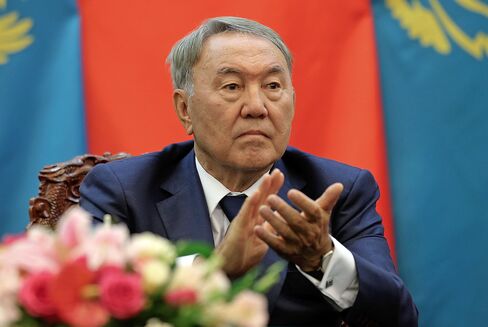 Nazarbayev says crisis to be stronger than in 2007-2009

President says jobs cuts are possible as profits fall
Kazakh President Nursultan Nazarbayev, who has ruled Central Asia's biggest energy producer for a quarter of a century, warned the government to prepare for economic pain, saying a "real crisis is coming."
Improvement is "impossible to forecast" for the near term, and the population may be hurt worse than in 2007-2009, Nazarbayev told Prime Minister Karim Massimov. Budget revenue has dropped 40 percent after oil prices collapsed, he said, according to a statement on his website Monday.
"Our people must know the current situation, which means a decline in our companies' profits, a drop in incomes and the possibility of job cuts," Nazarbayev said. "We must have a program to support socially vulnerable groups."
Kazakhstan abandoned its managed exchange rate in August as concern about China's slowing growth hobbled oil prices. Policy makers resumed interventions in September after the tenge's volatility surged to the highest in the world and the currency weakened to a record low of 299.99 to the dollar, down about 34 percent from a month earlier, and closed at 276.95 on Monday, according to data compiled by Bloomberg. On Oct.15, the central bank said $3 billion will be sold from the National Oil fund on the open market, after the regulator spent $1.7 billion to smooth the tenge's swings.
In 2009, Kazakhstan devalued the tenge by about 20 percent and spent $10 billion to prop up the economy, while three lenders acquired by the state restructured about $20 billion of debt.
Oil Fund
To help stimulate the growth, Kazakhstan plans to use 686 billion tenge ($4 billion) from the National Oil fund this year to fund its Nurly Zhol, or Path to the Future, program, according to the prime minister's website. Nazarbayev told Massimov that money should help boost industrial production and ensure existing capacity is used, not to support ailing companies.
Nazarbayev said his views on global economic woes are based on talks with leaders of Russia and China, Kazakhstan's biggest trading parters, as well as U.S. officials. Russia is struggling with its first recession since 2009, while China's third-quarter economic growth decelerated to its slowest pace since 2009.
Before it's here, it's on the Bloomberg Terminal.
LEARN MORE