Merkel Woos Erdogan on Refugees After Turkish Leader's Taunts
German leader to visit Istanbul in heat of election campaign

Turkey seeking aid for refugee camps, EU concessions
The influx of refugees into Germany is making Chancellor Angela Merkel throw caution to the wind as she heads to Turkey, two weeks before a national election.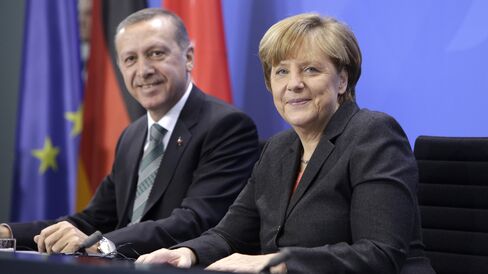 Courting Turkish President Recep Tayyip Erdogan as he seeks to shore up control in the Nov. 1 ballot is bound to run the risk of bucking neutrality. By traveling to Istanbul on Sunday to win his support in stemming the stream of migrants and refugees to Europe, Merkel is reluctantly acknowledging that these are exceptional times, according to a person familiar with her thinking.
Under fire at home for her open-armed stance toward refugees, Merkel is looking abroad to Turkey for help in resolving the crisis. For the European Union's pivotal leader, that means engaging with the president of 77 million Turks, a man long criticized by the EU as using autocratic methods to squelch dissent and accumulate power.
"There is obvious concern that turning up in Istanbul in the dead heat of an election will be perceived to be an endorsement of Erdogan," Mujtaba Rahman, head of the Europe practice at Eurasia Group in London, said in an interview. Still, "I don't think the EU leaders have any other choice but to deal with Turkey."
Balancing Interests
Fresh from an EU summit in Brussels on Thursday where she argued for 3 billion euros ($3.4 billion) in aid to Turkey, Merkel is engaging with a country the EU has kept at arm's length for a decade. Turkey also wants eased EU visa rules for its citizens and a "safe zone" in Syria to shift part of the refugee burden off its soil. Erdogan said Turkey has spent $8 billion to care for its 2.2 million refugees.
"We will have to find a balance of interests," Merkel said in an interview with the Frankfurter Allgemeine Zeitung newspaper published Saturday. "Our interest is to better control and steer the movement of refugees. Turkey's interest is to get some relief."
Erdogan took a swipe at Merkel on Friday, ridiculing this month's abortive speculation that she might get the Nobel Peace Prize.
"Someone comes out and says they'll accept 30,000, 40,000 refugees and they're shown as a candidate for the Nobel Prize somehow," Erdogan said in a speech in Istanbul, understating by a wide margin the number expected to arrive in Germany this year. "We've got 2.5 million refugees and nobody cares."
Cologne Attack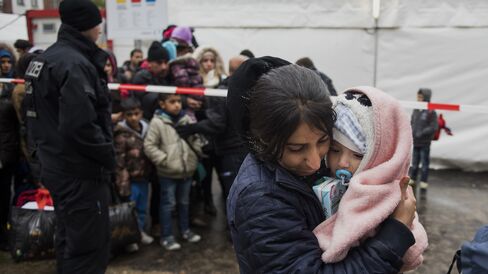 Many of the 800,000 or more refugees Germany expects this year are fleeing Syria's civil war via Turkey. Merkel's government is pressing for tighter security at the Turkish border with Greece, the EU entry point for thousands arriving in inflatable boats on Greek islands.
In Cologne, a mayoral candidate who advocates tolerance for refugees was stabbed and seriously injured Saturday by a man who police said cited anti-foreigner motives. German politicians condemned the attack, with Merkel's chief of staff Peter Altmaier saying on Twitter that "our common values are stronger than xenophobic violence."
Turkish Politics
When a preliminary deal worked out between Turkey and the EU was discussed at the summit, the 28 government leaders bristled at the list of further demands from Erdogan, including progress on stalled EU membership talks.
The jostling offers Erdogan leverage as he seeks to restore the government majority that his Justice and Development Party, AKP, lost it in a June 7 election after the success of a pro-Kurdish group. The standoff prevented a single-party government and prompted a repeat election.
"Of course there won't be any meddling in the Turkish election campaign," said Steffen Seibert, Merkel's chief spokesman.
In Germany, whose 81 million people include about 3 million of Turkish descent, growing public resistance to the refugee influx is eroding the power base of Merkel, the leader of Europe's biggest economy who held the euro area together through the financial crisis.
Polls in Turkey suggest the AKP will fall short of a majority, meaning coalition talks could drag on and hold up a Turkish deal with the EU, according to Eurasia Group's Rahman. That raises the stakes for Merkel to expend further political capital.
"If after having invested so much time and energy cultivating Erdogan and you still don't have serious implementation," Rahman said, "it's going to call into question what kind of influence Merkel actually has."
Before it's here, it's on the Bloomberg Terminal.
LEARN MORE