California Highway Patrol Jobs Lose Star Power as Economy Soars
Agency hunts recruits as unemployment reaches 6-year low

If Ponch and Jon were around today, they might drive for Uber
California Highway Patrol jobs, made cool by the 1970s television series "CHiPs," were coveted as they came with high pay and great benefits along with the snappy uniforms and motorcycles. Now, the state's economic comeback is so strong that recruits are hard to find.
Applications dropped to about 19,000 in 2014, from a peak of 55,000 during the height of the financial crisis in 2008 and 2009, according to the agency. Vacancies have grown 28 percent as the state's unemployment rate dipped to 6.1 percent, the lowest in almost six years.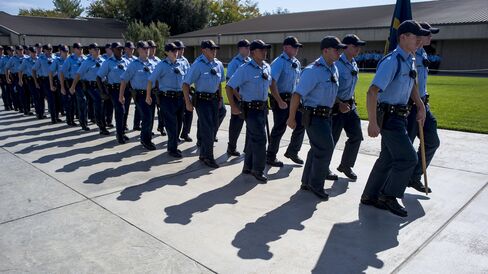 "When the economy is humming, we get fewer applicants," said Captain Sam Dickson, commander of the Highway Patrol Academy.
California, the world's eighth-largest economy, is finding patrol recruits lured away by technology companies, new-commerce titans such as Uber Technologies Inc. and Lyft Inc. and other better-paying opportunities. It joins police departments across the country, including in New York and Chicago, that are having trouble drawing candidates, said Jim Pasco, executive director of the National Fraternal Order of Police.
"There is a greater variety of employment opportunities," he said.
In California, other state departments are also having trouble filling information-technology jobs as candidates flock to positions at Silicon Valley's tech titans.
At the Sacramento-based Highway Patrol, a cadet earns as much as $68,328 annually in gross pay, while an officer collects as much as $108,324. They draw pensions averaging $74,616 for 28 years of service, according to data from the California Public Employees' Retirement System. At the competing Sacramento County Sheriff's Department, a sergeant earned as much as $181,776 and a captain earned as much as $184,136 in total wages in 2013, according to state controller data.
Senior information-systems analyst positions are also going unfilled in California state governments. Those jobs have a salary ranging from $69,888 to $91,860, with openings in 24 state offices, said Jim Zamora, a spokesman with the Human Resources Department. The average annual technology salary was $112,610 in Silicon Valley last year, according to Dice.com, a San Jose-based technology-jobs website.
Still, information-systems analysts never had a show like "ChiPs." Running from 1977 to 1983, it followed the lives of heartthrob patrolmen Ponch and Jon, played by Erik Estrada and Larry Wilcox. The shirts were tight, the smiles incandescent and the hair, unhelmeted, a fluffy confection.
Now, it's harder to follow in the tracks of their Kawasakis.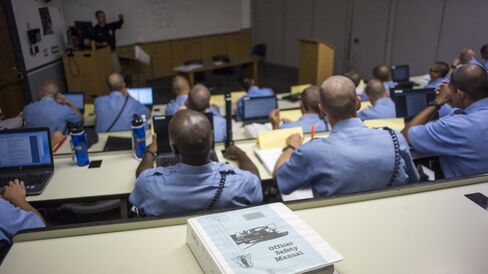 Clearing a Highway Patrol applicant to attend the academy can take a year or two, including a background investigation, said Sergeant Brent Carter, the agency's statewide coordinator for cadet hiring.
"It's a buyers' market," Carter said. "They have the ability to shop around and see what everybody offers. Qualified candidates can pick and choose where they want to work."
To draw interest in the agency, it has even invited news reporters and camera crews to experience the life of a cadet for a day. At one such event Oct. 7, about a dozen journalists did jumping jacks, raced through an obstacle course and acted out traffic-stop scenarios.
The patrol also uses social-media sites, including digital music service Spotify USA Inc., Facebook Inc. and Twitter Inc., to target advertisements and interact directly with 20- to 35-year-olds, CHP's Carter said.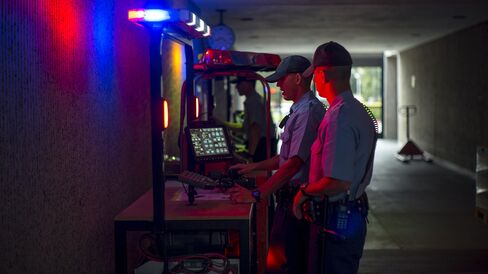 Statewide, employment rates are at 66 percent for those ages 20 to 24 and 79 percent for those 25 to 34, according to August data from the state Employment Development Department.
"In the Bay Area, we have one of the lowest unemployment rates per capita as individuals are able to seek employment in our myriad number of tech companies, or are self-employed or working at an easy-entry job such as Uber or Lyft," patrol spokesman Daniel Hill said.
A majority of Uber drivers said working with the San Francisco-based car-service mobile application increased their income and most said they drive to earn more to support themselves and their families, according to a study the company released in January. They make $25.77 per hour in San Francisco and $17.11 per hour in Los Angeles, according to Uber.
Officer Matthew Crist, a patrol recruiter in the San Francisco area, said that this month he worked a booth at a career fair in San Mateo, a Silicon Valley city, that drew 300 to 400 people. About a dozen approached him. Most were interested in tech jobs, he said.
"A lot of it is that it's easier to get into," Crist said. "Getting jobs with other employers -- it's instant. Most agencies, you're looking at a year before you're becoming an actual officer."
Before it's here, it's on the Bloomberg Terminal.
LEARN MORE