UEFA Backs Michel Platini After FIFA Ethics Suspension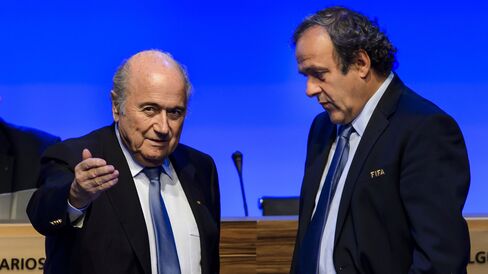 Soccer body says Platini is a FIFA presidential candidate

UEFA `convinced' there will be resolution by mid-November
UEFA President Michel Platini won the backing of European soccer's governing body to keep his job amid allegations of corruption that have ripped the sport apart.
UEFA's board said following a meeting in Nyon, Switzerland, Thursday that Platini had a right to clear his name. The move gives the 60-year-old Frenchman time to try to salvage his campaign to become the next head of the sport's global organization, FIFA.
"We support Michel Platini's right to a due process and a fair trial and to the opportunity to clear his name," UEFA Secretary General Gianni Infantino said Thursday at a press conference at its headquarters following meetings of its executive committee and 54 national delegations. Infantino urged a resolution to the situation by mid-November so that the FIFA presidential election can go ahead on Feb. 26.
UEFA had said it saw "no need, at this moment," to replace Platini when FIFA banned him from all soccer activities for 90 days earlier this month. FIFA's reform committee kicks off a three-day meeting Friday to discuss how to overhaul the organization. On Oct. 20, its top executives will meet in Zurich to discuss the possible delay of a special election in February to elect Blatter's replacement.
Infantino told reporters that Platini has filed the necessary papers to run for FIFA's top job.
Platini wasn't able to attend the meeting himself because of the FIFA suspension, but was represented by an attorney.
Tom Cannon, a professor of sports management at the University of Liverpool, said that the European soccer officials have "basically opted out of doing anything" about the crisis.
"I thought they would've at least set up their own investigation at UEFA," Cannon said.
Europe's Best Player
Platini, voted Europe's best player three times before retiring, became UEFA president in 2007. He was the bookmakers' favorite to win the FIFA vote before his suspension. In the run-up to Thursday's meeting, some countries publicly demanded more information about the 2011 payment from Blatter, a 79-year-old Swiss citizen who has led FIFA for almost two decades.
"Mr. Platini has the right to defend himself but he has to explain what is true and what is not," said Chris Van Nijnatten, a spokesman for the Dutch Football Federation, known as KNVB. "If he does not give a logical explanation for the payment, then the KNVB must reconsider its support."
Swiss Investigation
Platini was suspended following the opening of a criminal investigation into Blatter by the Swiss attorney general, who is looking at a 2 million Swiss franc ($2.1 million) payment to Platini. The Frenchman called his suspension "farcical" and points out that he hasn't been named as a target of the Swiss proceedings. Attorney General Michael Lauber said on Sept. 29, however, that he can't exclude investigating Platini after interviewing him last month.
"We didn't audition Platini as a witness, we investigated him as in between a witness and an accused person," Lauber said at the time.
Blatter and Platini deny any wrongdoing.
UEFA acknowledged in its Oct. 8 statement that Platini has appealed his suspension and is trying to clear his name. UEFA went on to say that "there must be a very rapid final decision on this matter before the relevant bodies in the interests of both justice and football."
Platini was the hero of France's winning campaign in the 1984 European championships before embarking on a career as coach of the national team and then sport administrator. He was until recently widely seen as the frontrunner to replace Blatter, who said he would resign once a successor was elected in elections in February.
February Election
The Oct. 20 meeting of FIFA's executive committee is fueling speculation it might delay its Feb. 26 presidential vote after the suspension of Platini and South Korean Chung Mong Joon, both of whom were considering running to replace Blatter.
Prince Ali Al Hussein, who finished second to Blatter in FIFA's June presidential election, filed to run as candidate earlier Thursday after stressing Wednesday that the February vote must go ahead.
"Delaying the scheduled election would only postpone needed change and create further instability," he said.
Infantino reiterated that message on Thursday, saying that the election has to go ahead so that FIFA can select a new president to improve its image.
Before it's here, it's on the Bloomberg Terminal.
LEARN MORE