Merkel Tells EU to Pay Up on Refugees as Border States Clash
Chancellor says frontier nations need support on immigration

Talks include cooperation with Turkey, outer EU borders
German Chancellor Angela Merkel told her partners that everyone has to pay their fair share as she tried to restore order to a European Union unsettled by its biggest refugee crisis since World War II.
"I hope that we get direct signals that all countries are fulfilling their financial obligations and that all countries are willing to offer personnel," Merkel told reporters as she arrived at a summit of EU leaders in Brussels. "Only a small number of countries have a great number of refugees and if they provide all of the personnel at the outer border, then that's not what we understand as a fair distribution."
With more than a million migrants set to reach the EU this year, member states are bristling at the changes they'll have to persuade their reluctant voters to shoulder and trying to enlist the cooperation of Turkey to stem the flow of people fleeing the conflict in Syria. The debate over how to police EU borders and process arrivals efficiently touched a particularly raw nerve with frontier states that feel they've been left to tackle the crisis alone for too long.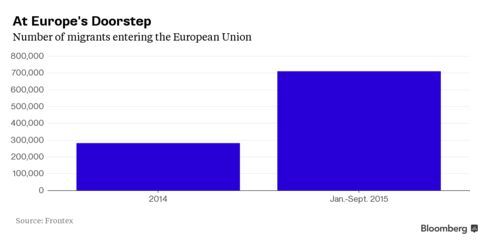 Hungarian Prime Minister Viktor Orban said that if Greece won't allow the EU to help defend its border with Turkey, then the bloc would have to do more to stop refugees leaving Greece through the Balkans. Croatian Prime Minister Zoran Milanovic branded a plan to set up a special EU border force "impossible." Instead, he said, it was up to Greece and Turkey, as well as Germany and Sweden, to act.
Greek Prime Minister Alexis Tsipras said it was in Europe's interests for his country and Italy to be given support by the rest of the bloc.
Russian Bombing
Greece and Italy have been criticized by EU officials for failing to register and fingerprint all new arrivals, and for letting many migrants simply move on northwards. One solution put forward is to set up so-called "hot spot" centers in the two countries to process new arrivals. Estonian Prime Minister Taavi Roivas called for immediate action on that front.
Merkel though warned there would be "no conclusive decisions" at the meeting, even though the crisis that has eroded her own popularity at home was "really an urgent issue with a lot of people."
Russia's decision to start bombing raids on targets in Syria last month added to the pressure on EU leaders who've voiced concerns that the numbers of people heading west to escape the violence could escalate. Earlier this week, the EU's border-management agency Frontex said that the number of migrants who arrived in the bloc in the first nine months of 2015 reached more than 710,000 compared with 282,000 during the whole of last year.
Courting Turkey
For EU President Donald Tusk, the priority now is persuading Turkey to help stem the wave of refugees "especially after the last action in Syria" -- a reference to the Russian raids.
"The new wave will be bigger than now," Tusk said, adding that the EU needs Turkey to give guarantees "as concrete and substantive" as the incentives the bloc has offered in return. The bloc is close to a deal with Turkey, but it hasn't been finalized yet, an EU official said.
Merkel will travel to Istanbul on Sunday, but harnessing a country which has seen its bid to join the EU stalled for a decade is an uphill battle. When Turkish President Recep Tayyip Erdogan went to Brussels on Oct. 5 to consider an "action plan" on migration, Turkish officials said the plan wasn't even discussed.
"At the moment we have a very disorderly situation," Merkel said. "So we need more order and more control."
Before it's here, it's on the Bloomberg Terminal.
LEARN MORE