Massachusetts' Big Bet on Biotech Pays Off
A 2008 law providing subsidies to startups has generated revenue.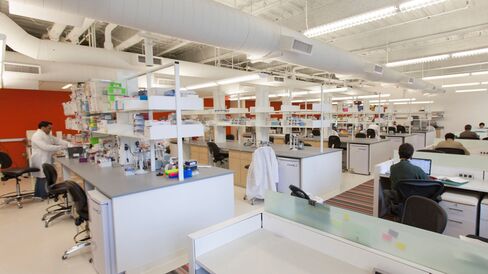 Last year the tenants of a single glass-and-steel building in Cambridge, Mass., raised $201 million in seed stage venture capital funding, more than the entire Swiss life-science and biotech industry. The building houses LabCentral, an incubator for biotech startups that opened in November 2013, renting space to would-be entrepreneurs. LabCentral was the brainchild of a venture capitalist named Peter Parker, but he owes its existence to Massachusetts taxpayers, who fronted $5 million for the project. "That was most of the buildout and the big sunk cost that no investor would have ever put up," he says.
The investment was made under the state's 2008 Life Sciences Act, which authorized $1 billion in investments, grants, loans, and tax breaks over 10 years to give the local biotech industry a lift over rivals in California. The incentive package has paid off for Massachusetts, which won a third of all U.S. seed stage funding for biotech from 2009 to 2013—more than $761 million, according to the MoneyTree Report, a joint study produced by PwC and the National Venture Capital Association. Nine of the world's 10 biggest drug companies have opened offices or research and development labs in the state over the past few years. And R&D jobs in the industry have grown more than 21 percent over the same period, according to the Massachusetts Biotechnology Council, nearly three times the U.S. rate.
States usually use tax incentives to attract established companies. Massachusetts chose a different path: Using channels such as LabCentral, it made a bet on homegrown companies. Where other states have tried to use subsidies to create tech hubs from nothing, Massachusetts instead focused on unlocking the commercial potential of research already being done at Harvard, MIT, and the University of Massachusetts.
"We knew that we shouldn't presume to substitute government for the private sector," says Deval Patrick, who as governor of Massachusetts signed the subsidies into law. (He's now a managing director at Bain Capital.) "If you can attract enough of the small companies that are on the cutting edge of research, the big companies will follow because they want a front-row seat," says Barry Bluestone, a Northeastern University economist the state hired to measure the program's impact.
Seventy percent of the money disbursed so far has been in the form of direct capital investments that were used to put up buildings and buy equipment. Every dollar Massachusetts spent under the program boosted tax revenue by $1.66, according to Bluestone.
The clustering effect also makes it more difficult for companies to leave the state as they grow. "Everyone that you want to see and meet are also here," says Will Adams, president of Riparian Pharmaceuticals, a LabCentral tenant that received $200,000 from Massachusetts. "It is exceptionally easy to meet anyone for a coffee for an hour, from a high level to a low level, from a large pharma company to the investors that fund small companies."
Riparian is developing drugs to prevent the breakdown of the lining of blood vessel walls. It was co-founded in 2013 by Adams and Guillermo García-Cardeña, a professor at Harvard Medical School, and was brought into LabCentral by Johnson & Johnson Innovations, J&J's venture capital division. "There's something very special that happens here," says Robert Urban, head of Johnson & Johnson Innovations in Cambridge. "It's about density."
The bottom line: State subsidies for startups helped Massachusetts win more than $761 million in seed stage biotech funding from 2009 to 2013.
Before it's here, it's on the Bloomberg Terminal.
LEARN MORE