Lululemon's Founding Family Gets Revenge With Cashmere
They built a spandex empire. Now they have a new plan to dress the young, fit, and rich.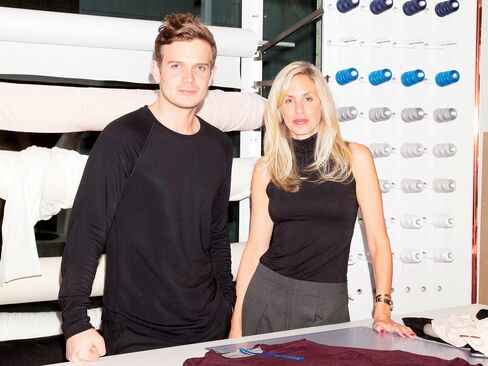 Cashmere has been collected from the undercoats of Mongolian goats for hundreds of years. "Technical cashmere" has been around for about two. It's the creation of Shannon Wilson, the former lead designer for Lululemon Athletica who's married to the company's founder, Chip Wilson. The fabric is only 10 percent cashmere, blended with spandex and cotton or rayon. It's the foundation for Kit & Ace, an apparel company Shannon began by selling slouchy $80 T-shirts to the so-called creative class.
"We have to make sure we're providing function and performance," Shannon says. "And time, right? The biggest thing is time," adds JJ Wilson, co-founder of Kit & Ace, former creative director for "men's vision" at Lululemon, and Shannon's stepson. Shannon is the new company's creative director; JJ is brand director. Chip, for now, is an informal adviser and financial backer, albeit one with unusual access to the founders. Kit and Ace are fictional muses, a single woman and man who are creative, active problem-solvers.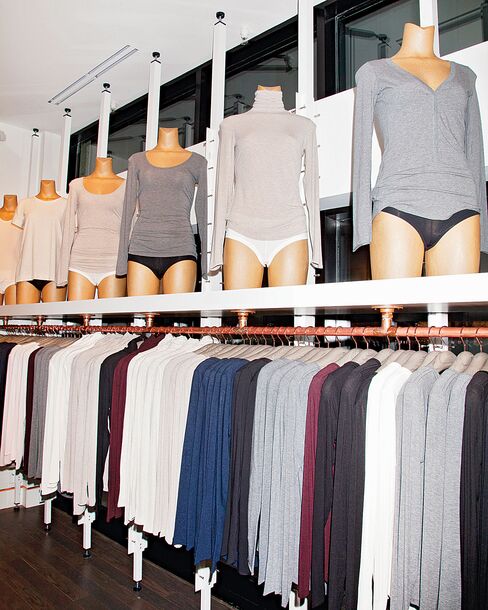 JJ points to a white neon sign, hanging on a white wall in the Kit & Ace boutique in Manhattan's Nolita. "Time is precious," it says. Time is too precious to spend at the dry cleaners, so the Wilsons' fabric is machine-washable. There are 31 stores, where JJ has selected local art for the walls and local lighting for the ceilings. Two have coffee shops inside. Four are called ateliers. A copper-colored Airstream is parked on the street outside the New York store; it doesn't sell clothes but serves to "engage the creative class," says a Kit & Ace spokeswoman. The Copper Studio, as the Airstream is named, will head Down Under this spring to engage its creatives.
At Lululemon, the Wilsons embodied the "athleisure" trend. Activewear has grown to be a $41 billion industry in the U.S. in the last year, according to NPD Group. And Lululemon was at the forefront—with yoga and workout pants flattering enough to wear to brunch after a spin class. For Kit & Ace, Shannon and JJ want to design clothes that turn that notion on its head. "We're going in the exact opposite direction," she says. "We're taking the best of technical apparel and applying it to the street." They say Kit & Ace isn't competing with Lululemon. They have little reason to—the family still owns about 14 percent of that company, a stake now valued at a billion dollars. But if Lululemon starts to design streetwear, JJ says, "that would be Lululemon competing with us."
The Wilsons opened the first Kit & Ace in the summer of 2014 in Vancouver, where they live. Since then, they've expanded in Canada, the U.S., and Australia. They plan to double the number by mid-2016, to turn a profit by 2018, and, according to a recruiting video, to bring in sales of $1 billion in five years. It took Lululemon more than a decade to become a billion-dollar brand. The Wilsons' plan is an ambitious one, fueled by an $845 million payout from selling half their stake in their old company.
On a late September afternoon, Shannon, 42, is wearing Kit & Ace's cream-colored sleeveless turtleneck with loosely pleated gray pants. JJ, 26, is dressed all in black. Shannon is careful, gracious, perky; JJ is less guarded, just as perky. They have an easy rapport and often echo each other. (JJ: "I don't want to say that we're going to be perfect, because we're not." Shannon: "And sometimes people mistake integrity with perfect. And we are not perfect.")
They're sitting at a large wood table—there's one in every store—modeled after the kitchen table in Shannon and Chip's home. Kit & Ace executives in New York are supposed to work at the table so the store seems active; every couple of months it's the setting for a "supper club" for shoppers. At these dinners, guests have to answer prodding questions ("What do you believe déjà vu really is?") written by the Wilsons. That's something the family does at home, too.
The idea of Technical Luxury—which the company has trademarked—first came to Shannon when she and Chip took their three younger sons on a sabbatical to Australia in 2012. Chip, then chairman of Lululemon, was clashing with its chief executive officer, and Shannon wanted a break, too. She started thinking about how to make an elegant fabric that could keep its shape and didn't require much care. It took two years for her to develop her Technical Cashmere, also trademarked. "The name is slightly misleading," says Ajoy Sarkar, an associate professor of textile development and marketing at the Fashion Institute of Technology. "It's basically high-grade, high-value rayon." Kit & Ace's spokeswoman says the company's "intention is not to replace cashmere" but rather to "achieve that familiar softness … but allow it to be machine-washable."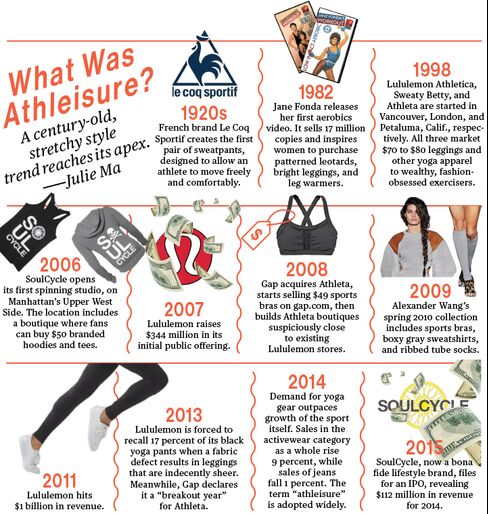 Shannon says she offered an early version of the fabric to Lululemon in 2013, but executives weren't interested. Lululemon declined to comment. "Maybe it's not such a breakthrough concept after all," says Robin Lewis, a retail analyst who publishes the Robin Report. Shannon says Lululemon just had a lot going on at the time. That's a diplomatic reference to the recall of 17 percent of its black yoga pants after customers complained the Luon fabric was too sheer. That was followed by Chip saying on television that "it's really about the rubbing through the thighs," then apologizing, then threatening a boardroom fight, then selling half his stake in Lululemon, then resigning from the board.
During this crisis, Shannon says, executives encouraged her to work on the new fabric outside Lululemon. In March 2014 she and JJ decided to start their own line. Kit & Ace now sells $198 pants, $148 dresses, and $348 jackets for women, and a similarly priced range of shirts and pants for men. The aesthetic is simple and modern, but not distinctive. "It seems very safe, design-wise," says Edward Hertzman, a textile consultant. Clothes made from a washable silk blend will be available in the spring.
This kind of luxury performance wear appeals to a small but growing group of consumers. "Kit & Ace is early to the market," Hertzman says. That's one reason the Wilsons are expanding so quickly. They know competition will be fierce. Also that the distinction between athleisure and Technical Luxury might be too fine for customers to care about. Already, upstarts such as Callens and Ministry of Supply sell $500 leggings and $138 stretchy chinos, while established brand Michael Kors makes sweatpants with cashmere for $495, and Tory Burch offers a $225 "Tech-Knit" skirt. "It's nice that Kit & Ace developed the Technical Cashmere, but it will be copied," says Hana Ben-Shabat, a partner in the retail practice at A.T. Kearney. "If they're smart enough to build a community, that's harder to copy."
In late January 2014, days before Chip resigned from the board of Lululemon, he told the New York Times the family spent $7 million to get Kit & Ace started and expected to take on $300 million in debt to fund the company's growth for the next four years. The Wilsons now refuse to discuss finances, and Chip, over e-mail, said: "It feels good to be in creation again and to support my wife and son in their new venture."
Shannon and JJ are trying to strike out on their own while re-creating parts of Lululemon's culture. Printed on Kit & Ace's bright blue shopping bags is an essay, Integrity: Without It Nothing Works, by Harvard Business School professor Michael Jensen. Lululemon placed that same essay on its bathroom walls. For years, Jensen has worked with Werner Erhard, whose teachings are the basis for the Landmark Forum, a three-day motivational course. All the Wilsons have taken Landmark, which was central to the Lululemon culture. Lululemon paid for employees to attend—some say it pressured them to do so. Kit & Ace employees are also offered the course. "It's really how we operate as a family and how we communicate," JJ says. Even the youngest Wilsons—Shannon and Chip's 9-year-old twins—have enrolled.
The CEO of Kit & Ace, Darrell Kopke, worked at Lululemon as a senior executive from 2001 until 2009. On LinkedIn he describes himself as that company's "key architect of the organizational culture." It took a little persuading to recruit him, Shannon says, "but he wanted to get back involved with the Wilson clan. He couldn't resist," she adds. In an e-mail, Kopke said his main concern about Kit & Ace's rapid expansion is fostering a culture where "employees take responsibility for their actions and operate in integrity."
As the company grows, the next step is to determine how Chip—the man behind the Wilson family's philosophy, its fortune, and its ouster from Lululemon—may get more officially involved. "We're figuring it out," JJ says. "We welcome him. For sure. We'd be foolish not to."
Before it's here, it's on the Bloomberg Terminal.
LEARN MORE