License to Spend in Poland as ECB and Fed Keep Investors Easy
Bonds rally even amid campaign vows of more spending, benefits

Assets supported by Poland's strong fundamentals, Barings says
It's proving tough to damp investor confidence in Poland.
With its promises to boost social spending, reduce the retirement age and clobber banks with special taxes, the party leading in pre-election polls has barely made a dent in the bond market. In fact, as this month's election approaches, investors have reduced the extra yield on Polish bonds to 2.1 percentage points over German bunds from 2.6 in June.
The willingness of investors to overlook a potential deterioration in Poland's budget shows the overwhelming effect from the European Central Bank's bond-buying program and the delay in lifting U.S. interest rates. At home, there's too much positivity over an economy growing at 3 percent-plus with no inflation to fret over spending plans.
"Investors outside Poland don't care that much about the elections as long as the ECB and Fed are setting the tune," Andreas Rein, a money manager who helps oversee the equivalent of $1 billion at Uniqa Capital Markets GmbH in Vienna, said on Thursday. He's market-weight zloty government bonds. "Poland is still the poster child of eastern Europe and has great economic figures. The country would have to do something really serious to change that."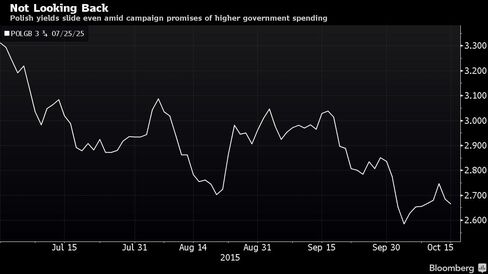 The opposition Law & Justice party has promised to give families with two or more children 500 zloty ($135) a month for each child and to reverse an increase in the retirement age brought in by the ruling Civic Platform-led coalition. It is also considering the introduction of a tax on assets of lenders and insurers or a levy on financial transactions. The party has enough support to win a majority in parliament in the Oct. 25 general election, two opinion polls released Thursday showed.
The European Union's biggest eastern economy expanded 3 percent or more for seven straight quarters, led by advances in wages and investment and the lowest unemployment rate in seven years. Those gains come amid the longest stretch of falling consumer prices since the early 1980s, with deflation deepening in September as prices declined 0.8 percent from a 0.7 percent drop the previous month.
Expectations of more monetary stimulus from the ECB and bets for a liftoff in U.S. rates pushed back to March from as early as December just a month ago are also underpinning demand for the country's debt.
The yield on Poland's 10-year zloty government notes fell one basis point to 2.66 percent at 1:54 p.m. in Warsaw, down from this year's peak of 3.35 percent in June. The zloty weakened 0.1 percent to 4.2378 per euro, curbing this year's gain to 1.2 percent.
'Strong Fundamentals'
"Polish assets continue to be supported by sound fundamentals," said Thanasis Petronikolos, the head of emerging-market debt at Baring Asset Management, who holds a "modest overweight" position in Polish bonds. "The opposition has been leading in the polls and there is a risk that, if elected, they will implement populist policies. But the markets are giving them the benefit of the doubt."
Law & Justice won't push the general government deficit back above 3 percent of gross domestic product, a threshold deemed safe by the EU in its so-called Maastricht criteria, Beata Szydlo, the party's candidate for prime minister, said this week. The current government predicts a deficit of 2.8 percent of GDP next year as it sees the economy expanding 3.8 percent.
"So a country which currently meets the Maastricht criteria could run a slightly bigger deficit?" Paul McNamara, a fund manager overseeing $4.5 billion at GAM UK Ltd. in London, said Thursday. "Nobody's going to penalize that."
Before it's here, it's on the Bloomberg Terminal.
LEARN MORE