The Ankara Bomber Owned One of Turkey's Most Well-Known ISIS Hangouts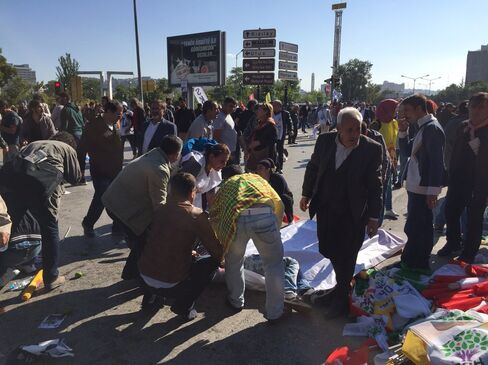 Man who killed 99 ran a known Islamic State tea house

Anti-terror efforts target Kurds while jihadi threat grows
The person named as a suicide bomber in Turkey's deadliest terror attack was the owner of an Islamic State gathering place well known to Turkish authorities and Turkish media, which had been sounding the alarm about his cell for more than two years.
Yunus Emre Alagoz, identified on Thursday by newspapers including the pro-government Yeni Safak as one of two who killed 99 people at a peace march in Turkey's capital on Saturday, was the older brother of Seyh Abdurrahman Alagoz, a suicide bomber who killed 33 pro-Kurdish activists in the town of Suruc on July 20. The two brothers had operated a cafe called the "Islam Tea House" in the southeastern city of Adiyaman, a nexus of Islamic State activity in Turkey. Orhan Gonder, who was charged with bombing a rally for a pro-Kurdish party in Diyarbakir on June 5, was a friend of the two brothers from the tea house, according to a field report from Adiyaman in August by the main opposition party known as the CHP.
While war between Islamic State and Kurdish forces rages across the border in Syria, the three increasingly bold attacks by the Adiyaman cell show the threat is coming home to Turkey. The latest attack also illustrates how Islamist radicals are being groomed in plain sight in Turkey, as President Recep Tayyip Erdogan's ruling party focuses its security and intelligence efforts on Kurdish militants and the pro-Kurdish political party instead.
"I find it hard to believe that these bombers, whose names and families were written about extensively in the press, were not being watched by the government and came to Ankara without the National Intelligence Agency knowing about it," Ezgi Basaran, a columnist at Radikal newspaper, said by e-mail on Wednesday. Radikal has been covering the militants from Adiyaman since 2013.
Newspaper's Warning
So much so that on July 23, Basaran published a column titled: "Another bombing attack is closer than we think," warning of Yunus Emre Alagoz and providing his initials without naming him. "We've written this over and over," the piece said. "We have lists of their names. Does the state not know what we know?"
Prime Minister Ahmet Davutoglu's press office didn't respond to requests by phone and e-mail seeking comment. In an interview on NTV television two days after the Ankara attack, Davutoglu named Islamic State as the primary suspect. He said Turkey was aware of potential threats but couldn't do much about them.
"We have a list of people who may carry out suicide bombings," Davutoglu said. "As a country with rule of law, you can't arrest them until they act."
Opposition parties have pointed out that it was Davutoglu himself who ushered through a new security law last year that lowered the bar required to detain people to "reasonable suspicion," a measure used largely against anti-government protesters. Turkey's criminal code also allows authorities to jail people for years for membership in or propaganda for terrorist groups.
Opposition's Question
"If ISIS is accepted as a terrorist organization and it's known that certain people are suicide bombers, and despite that we wait for them to act, it means openly leaving this society face-to-face with mass murderers," Sezgin Tanrikulu, a member of parliament for the CHP, said in a written statement on Wednesday.
Turkey isn't the only country that has struggled to deal with known terror threats. Cherif Kouachi was known to French police and even was written about in the New York Times before he went on a killing spree at the Charlie Hebdo offices in Paris. Man Haron Monis, the self-proclaimed cleric from Iran who took 17 hostages in a Sydney cafe last year, had been interviewed by Australia's Security Intelligence Organization several times and cleared before that incident, which left three people dead.
What's different about Turkey is the perception that its government is turning a blind eye to radical Islamists at home, even as it directs a vast anti-terror offensive against Kurdish militants and a Kurdish political party called the Peoples' Democratic Party, or HDP. At elections on June 7, the HDP received an unprecedented 13 percent of the national vote, stripping the ruling party of its majority government for the first time in 12 years. Erdogan called for a repeat vote; it will take place on Nov. 1.
Government's Detentions
Since that election, Turkey has detained 3,362 people in anti-terror operations, almost all of them for connections to the Kurdish separatist movement, according to a report by the state-run Anadolu Agency on Wednesday. Thousands more have been arrested in the past two years for membership in groups ranging from the Kurdish PKK to FETO, a name the government has given to what it says is a terrorist group run by U.S.-based cleric Fethullah Gulen, once an ally of Erdogan. FETO is not accused of violence: it's accused of trying to overthrow Erdogan by launching a corruption probe into his government.
"Tracking terror suspects takes tremendous manpower hours and close coordination amongst the security services," Aaron Stein, a non-resident fellow at the Washington-based Atlantic Council, said by e-mail on Wednesday. "I think any country's security forces would find it difficult to target three groups at once. The evidence suggests that there were numerous missed opportunities to apprehend people associated with the Adiyaman cell."
Even parents of the killers have complained about the government's failure to act.
"I went to the police countless times to try and get my son back from Syria," Radikal quoted the father of the second Ankara suicide bomber as saying in an interview on Wednesday, using the initials M.D. to protect his identity. "I told the police: 'please take him and throw him in jail.' They took his statement and then let him go."
Family members of the alleged Diyarbakir bomber said they spent eight months complaining to authorities about his disappearance before raising the issue in person with the prime minister at a provincial congress for the ruling party, according to the CHP report. Davutoglu told them he'd given an order to the national intelligence chief regarding their son. When another family told Davutoglu their son had left for Syria with his wife, he allegedly responded: "It's good that they went together, they'll support each other," according to that report.
It was parental pressure that eventually forced authorities to shut the Islam Tea House down. Families concerned about their children stormed the cafe several times themselves before the police did, according to Radikal's numerous reports from the city of 250,000.
It was shut down last year for operating without a license, Radikal reported. After that, Yunus Emre Alagoz and his brother Seyh Abdurrahman left for Syria.
Between them, they would take 132 lives upon their return.
Before it's here, it's on the Bloomberg Terminal.
LEARN MORE