Made in China `Lowflation' Keeps Lid on Prices Across the World
China is exporting deflation from steel to electronics

Global policy makers are struggling to jump-start demand
As Janet Yellen weighs whether to raise U.S. interest rates for the first time in nine years, a peek at Wal-Mart Stores Inc.'s American website shows why she and fellow central bankers are frustrated in their efforts to boost inflation.
There the Federal Reserve chair can spot an RCA-branded, 32-inch (81-centimeter), high-definition television listed for just $160. It wasn't so long ago these were four-figure items the average family had to sock away savings for weeks in order to afford.
These modern-day bargains stem from deepening factory-gate deflation in China that has helped push the price for such a screen at the point of production to $67 this month from $94 in February, according to Bloomberg Intelligence.
Like T-shirts, toys and tools before them, things like TVs and solar panels are just the latest products China's manufacturing prowess has commoditized, exacerbating global oversupply and pushing their prices lower around the world.
Smartphones, new-energy vehicles and robotics could be next in the crosshairs as China upgrades its industrial abilities, eroding profit margins for international competitors and cheapening even more items in statisticians' consumer-price index baskets.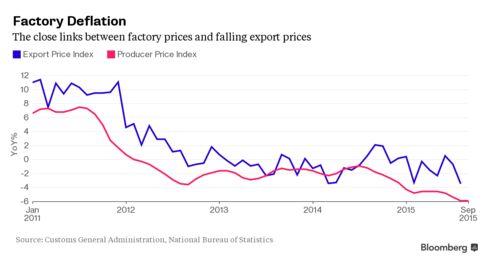 China is also at the heart of a commodities downturn that's further weakening prices around the world. The slowdown in the No. 2 economy is colliding with increased supply resulting from efforts in the past decade by global mining and energy companies to boost production to meet what had seemed to be insatiable demand.
Meantime, China's investment binge since the 2008 crisis has created overcapacity in capital-intensive sectors from cars to commercial buildings. And its August decision to let the yuan depreciate means less demand for foreign products and even cheaper shipments abroad if further currency weakness ensues.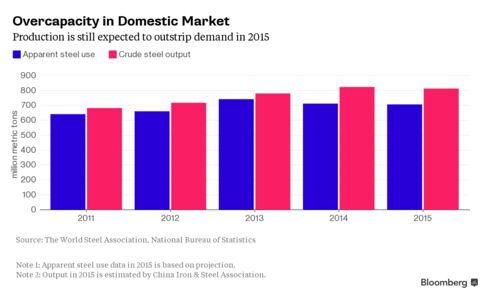 Trade data Tuesday gave an indication that China's competitiveness is improving as exports moderated less than economists forecast, underpinned by rising shipments to the U.S. That was followed by Wednesday's report showing a record stretch of factory-gate deflation extended to 43 months, caused by industrial overcapacity and the commodities rout.
The upshot of the disinflationary forces emanating from China is that seven years since the global financial crisis, inflation is still muted worldwide. The International Monetary Fund last week forecast consumer-price gains in advanced economies at a mere 0.3 percent this year, which would be the weakest since the recession-year of 2009.
Even next year, the Washington-based lender sees acceleration to only 1.2 percent, still beneath the 2 percent most central banks view as price stability and also the average in the pre-crisis decade.
To be sure, not all of the blame can be pinned on China. Spare capacity, weak investment and tepid demand in the industrial economies still scarred by the financial crisis of 2008 aren't its fault. Nor is lingering slack in labor markets. And the prices of many electronics tend to decline over time anyway.
There's also a case, as outlined in a report last week by economists at Standard Chartered Plc, for inflation to pick up over the medium term as wages start to increase, central banks stay accommodative and fiscal policy becomes less restrictive.
"Maybe markets are too pessimistic on inflation," said Madhur Jha, a London-based economist at Standard Chartered. "There are reasons to think of deflationary forces, but equally good reasons to think inflation will move back up."
Muted Prices
But for now, bond traders are betting on the weakest outlook for prices since the financial crisis, with inflation expectations lower than where they were before the Fed and its major counterparts began their last round of bond-buying. Fifty-two percent of government bonds yield less than 1 percent and 15 percent carry rates of zero or less, according to Bank of America Corp.
It also poses a challenge for central banks still trying to spur prices even after more than 600 interest-rate cuts and trillions of dollars in quantitative easing. Yellen has flagged China as a concern, and two members of her Board of Governors, Lael Brainard and Daniel Tarullo, said this week that the Fed should exercise patience before raising rates. This week also brought news that Britain's inflation rate turned negative in September for only the second time since 1960.
"The probability of QE infinity, an environment where central banks continue QE, is becoming more likely," said Alberto Gallo, head of global macro credit research at Royal Bank of Scotland Group Plc.
Before it's here, it's on the Bloomberg Terminal.
LEARN MORE