Billionaire Singer Lauds Gold as Central Banks Aid Recovery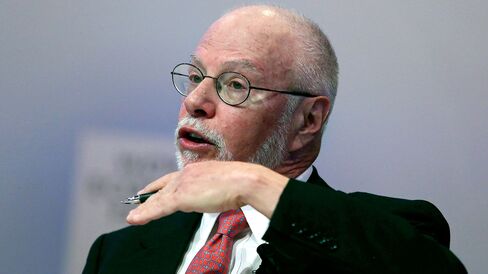 Surprised gold `can't catch a bid' amid central bank policy

Says gold is the `only real money,' and is `under-owned'
As central bankers prop up bond and stock markets with near-zero interest rates and bond purchases, gold is being overlooked, according to Elliott Management's Paul Singer.
"In a world where the value of paper money is affirmatively aimed at being degraded by central bank policy, it's kind of surprising to me that gold can't catch a bid," the billionaire and member of Bloomberg Markets 50 Most Influential said at the SOHN Investment Conference in Tel Aviv on Wednesday. "I like gold. I believe it's under-owned. It should be a part of every investment portfolio, maybe five to ten percent."
Singer criticized monetary policy makers for a staggered economic recovery from the 2008 financial crisis, and what he called the "cult of central banking" in which investors turn to regulators such as Janet Yellen and Mario Draghi to solve the ills of the global financial system. And while those policies have "levitated" bonds and equities, Singer said he's surprised by how few investors he meets own gold.
The commodity has been trading near the 5-year low it reached in August and rose as much as 0.8 percent after Singer's comments to $1,178.70 an ounce and traded at $1,176.23 as of 3:38 p.m. in London.
Singer said he prefers to hold options on gold to maximize the upside when it "feels like something institutional investors need to own," adding that "the supply of gold cannot be radically expanded in a short period of time."
Bullion has posted five consecutive quarterly losses, the longest run of declines since 1997 and even long-term supporters of the metal have started to desert it. In August, billionaire hedge-fund manager John Paulson cut his bullion holdings for the first time in two years. In July, hedge funds swung to a net-short position for gold for the first time ever. They've since taken a net-long position of 49,822 futures and options contracts on the Comex.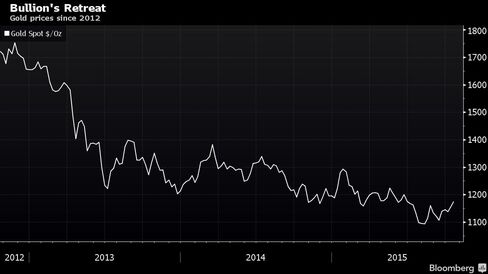 Investors have also liquidated positions in exchange-traded products backed by gold, with holdings in those tracked by Bloomberg falling 4.4 percent to 1,530 tons. The holdings are set to decline for a third consecutive year.
Central banks from the U.S. to Europe have keep rates near zero to stoke economic recovery. The timing of an interest rate increase in the U.S. is dividing some policy makers. On Tuesday, Governor Daniel Tarullo argued interest rates should stay on hold while documents showed most regional Fed directors sought higher borrowing costs.
Fed Chair Yellen said on Sept. 24 that she expected the first increase since 2006 to be warranted by the end of the year. The odds of a rate lift-off in December are 34 percent while the chances for a move in March are 56 percent, futures data show.
Before it's here, it's on the Bloomberg Terminal.
LEARN MORE