Treasury Won't Let Investors Pay It to Keep Their Cash Safe
Bill shortage pushes rates below zero as debt ceiling looms

Treasury rules preclude auctioning debt at negative rates
Investors are so eager to buy Treasury bills that they're willing to pay the U.S. to hold their money -- if only the government would let them.
Rates on one-month bills, which have sporadically traded below zero in the secondary market since 2008, have been negative for weeks amid a supply drought as the Treasury reduces sales to keep the U.S. under its debt limit. Yet Treasury rules don't permit auctioning new debt at negative rates, a phenomenon seen elsewhere in the world at times of heightened demand that means investors pay the government to hold their cash.
The lowest auction rates can currently go is zero, as they did Tuesday when the government sold three-month bills. Amid the latest Washington standoff over a U.S. debt-ceiling accord, the auction rules may be causing the Treasury to forgo some potential income, while giving investors lucky enough to get orders filled a chance to flip the securities for a quick profit.
"Treasury officials are more concerned about whether or not the government is going to be funded and if the debt ceiling is going to be lifted," said Ward McCarthy, chief financial economist in New York at Jefferies Group LLC, one of the 22 primary dealers obligated to bid at the auctions. "The concept of U.S. citizens paying the government instead of earning interest on Treasury debt would be a real political headache."
Record Demand
Weekly sales of four-week bills drew record demand in September as the amount offered dropped to $8 billion as of Oct. 6 from $45 billion in July. The current one-month bill traded at zero percent at 11:27 a.m. New York time. Treasury sold $20 billion of three-month bills Tuesday at a rate of zero percent, after it sold the securities last week at that rate for the first time.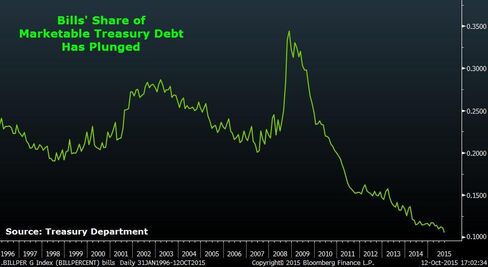 "Treasury continues to approach debt issuance with the principles of funding the government at the least cost over time and issuing debt in a regular and predictable way," Rob Runyan, a Treasury spokesman, said in an e-mail.
International Precedent
Nations such as Germany, the Netherlands and Finland have sold debt at negative rates, and the Treasury has previously discussed the idea with its borrowing committee. In August 2012, in a statement presented at its quarterly debt-refunding operation, the Treasury's then-assistant secretary for financial markets said the government was "in the process of building the operational capabilities to allow for negative-rate bidding in Treasury bill auctions, should we make the determination to allow such bidding in the future."
Yields on the shortest-maturity U.S. obligations have been at rock bottom since 2008, when the Federal Reserve dropped its overnight target close to zero. While the policy helped the economy recover from the recession, it's been the bane of savers, and has produced bouts of negative bill yields amid enhanced regulations on banks and money-market mutual funds.
'Mixed Signals'
"Allowing negative bidding would send mixed signals to markets -- that they think negative rates are here to stay for an extended period," said Amar Reganti, a strategist at Grantham, Mayo, Van Otterloo & Co. and a former deputy director of the Office of Debt Management at Treasury."Short-term financing considerations of a few auctions being negative is really subsumed at Treasury by the idea of maintaining a deep, liquid and accessible market. Treasury bills, notes and bonds are the instrument of choice for a lot of different views being expressed -- and that benefits the U.S. taxpayer in the long term."
The Treasury is likely to exhaust measures to stay under the debt ceiling on or about Nov. 5, Secretary Jacob J. Lew said in a letter to House Speaker John Boehner Oct. 1. At that point, the U.S. won't be able to sell additional debt and may have less than $30 billion of cash. The Treasury's daily expenditures are as high as $60 billion, he said.
The nation flirted with default in October 2013 and August 2011. Delays in raising the debt limit in 2011 caused the Treasury's borrowing costs to increase by $1.3 billion, as uncertainty led investors to demand higher yields, according to a Government Accountability Office study.
Once Congress increases the borrowing threshold, Treasury is likely to raise cash by selling bills, easing the shortage and potentially the discussion of negative rates.
"This is a byproduct of a temporary debt-ceiling issue," said Lou Crandall, chief economist at Wrightson ICAP LLC in Jersey City, New Jersey. "This isn't sufficient to justify a structural change in the auction process."
Before it's here, it's on the Bloomberg Terminal.
LEARN MORE