SUVs Are Only Game in Town for Automakers in China Amid Slowdown
SUV sales surge 60% in September, only category to record gain

Sedan, minivan deliveries slump as industrywide sales slow
SUV deliveries surged last month in China to become the only passenger-vehicle category to register a sales increase, underscoring how consumer preferences are veering away from traditional lower-riding sedans amid a sharp slowdown.
Sport utility vehicle sales jumped 60 percent to 548,508 units in September, compared with the 11 percent slump in sedan deliveries and 5 percent drop in minivan sales. Light-commercial vehicles, a category of mini-goods carriers often used as passenger transport, tumbled 36 percent, according to retail data released Tuesday by the China Passenger Car Association.
Demand for SUVs may surge further after China announced stimulus measures at the end of September, halving the purchase tax on an estimated 64 percent of passenger cars, including smaller SUVs, after lobbying by the state-backed auto association amid weak economic expansion. General Motors Co. estimates that SUVs, together with minivans and luxury vehicles, will account for about 80 percent of the growth in the market in the next several years.
"The demand has attracted almost all carmakers to invest in the segment and introduce new models, especially entry-level SUVs," said John Zeng, a Shanghai-based analyst at industry researcher LMC Automotive. "This will have a big impact on sedan sales because at around the same price, customers will definitely prefer crossovers which are more spacious and comfortable."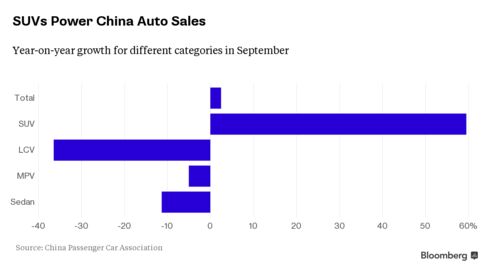 China cut the purchase tax on vehicles with engines 1.6 liters or smaller by half to 5 percent effective Oct. 1 through the end of next year. Many of the compact SUVs on the market, including Great Wall Motor Co.'s popular H5, will qualify for the tax cut.
Chinese automakers have seized market share from foreign brands by introducing lower-priced SUVs, prompting companies including Volkswagen AG to consider introducing budget models to compete.
A separate set of data released by the China Association of Automobile Manufacturers on Tuesday also showed SUVs as the only category to gain.
— With assistance by Tian Ying, and Jie Ma
Before it's here, it's on the Bloomberg Terminal.
LEARN MORE